Caring For People and Planet = Prosper!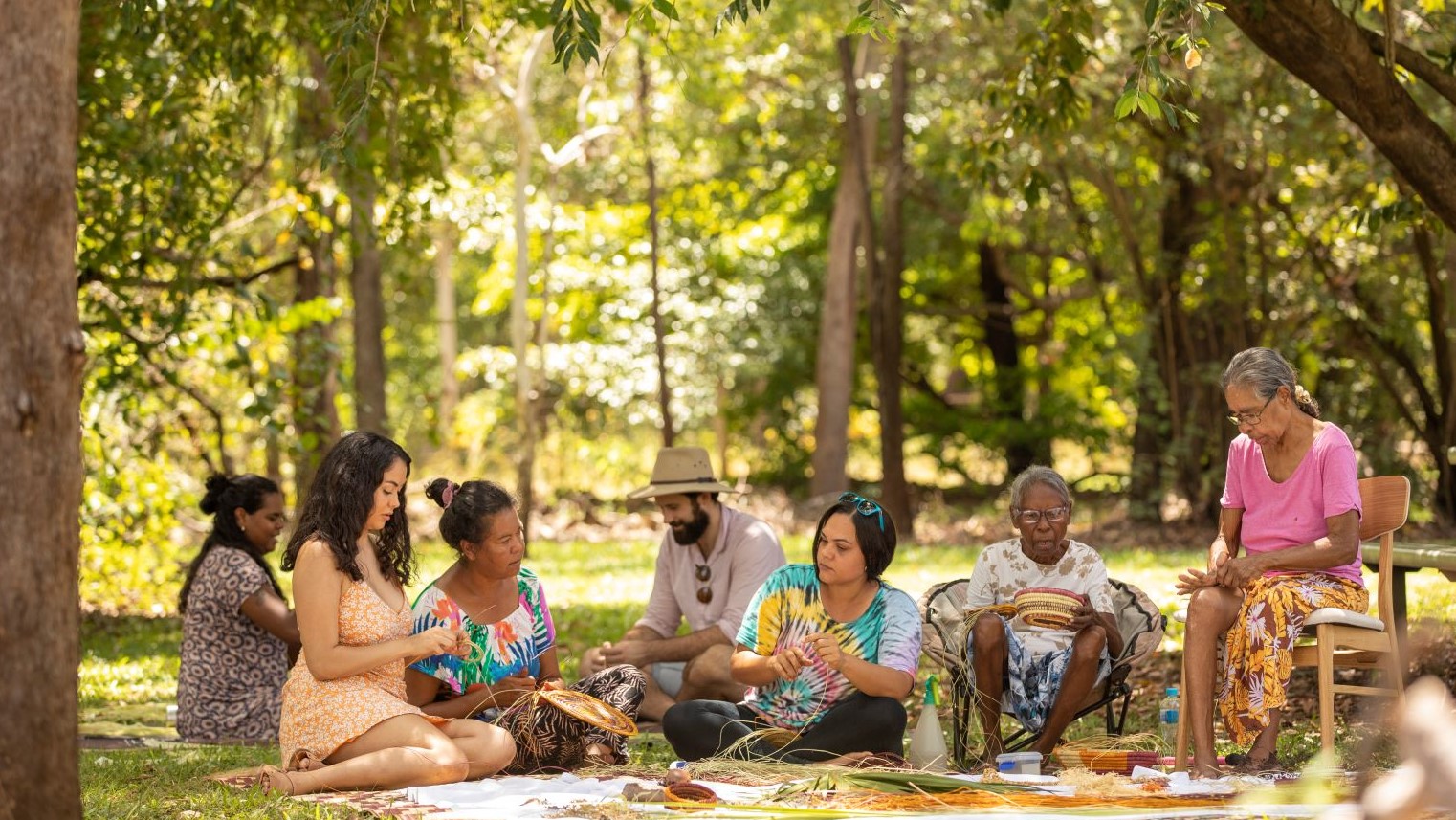 When we hear the words sustainability and eco-friendly we tend to think of practices that destinations adapt to ensure that tourism can thrive while still protecting the environment for future generations.
Out here in Kakadu, the mob has lived and breathed sustainability since the beginning of time. With a philosophy that entwines humans with its environment - "I am you, you are me", one cannot live without each other. For one to survive and thrive, the other must do so too. There is no pyramid with 'man' at the apex, instead every single thing whether it is a tree, a plant, a waterway, a bird, a crocodile is considered part of the family, and equal. Hunting is for purpose, and not a sport. Hunting is to gather food to eat, utilising every part of the animal and giving thanks to the animal before it is eaten.
The aboriginal people are mindful of future needs, not just for themselves but for their country. They never over hunt or exploit the population of an animal. They'll go hungry rather than kill mother geese or chicks, as they know the mother geese and chicks need to survive so that they can produce for future needs.
CARING FOR COUNTRY
Caring for country exists within the Aboriginal culture as naturally as breathing. It is an innate part of being aboriginal and from a very early age, you are taught the importance of working with country to protect, preserve and rejuvenate all that surrounds you.
A great example of this is Patchwork or mosaic burning. It is a very important part of rejuvenation for the land, and helps to control the intensity of dangerous wildfires. It also improves hunting success and animals are attracted to re-sprouting grasses and promoting the growth of valued plants. It has proven to be such a successful fire management approach that modern science has adapted it for encouraging environmental diversity, and reducing both the danger from and carbon output of more ferocious wildfires.
LIVING IN HARMONY WITH THE SEASONS OF THE KAKADU
Most people who know about Kakadu, have heard of the Dry Season and the Wet Season, however the traditional owners, over thousands of years, have identified that Kakadu has six different seasons, defined by the skies, rainfall, plants and animals. The transitions between seasons are marked by subtle variations in the weather, the plants in flower and the bush foods that are most abundant. The aboriginal people live in harmony with the seasons, moving in sync with nature to live off what country provides throughout the different times of year.
EMBRACING THE DIVERSITY OF KAKADU
With such a diverse landscape and seasons making it difficult for farming, Kakadu remains a rare and unique destination where farming hasn't been displaced to culture. Jointly managed by Parks Australia and the traditional owners, the Australian Government has realised the importance of caring for this special place. Parks working with the traditional owners, invite and encourage visitors to the park to soak up the rich understanding of country that is on offer, and to enjoy the indigenous way of life that is woven through every experience within Kakadu National Park. Learn more about the Joint Management Parks program here.
MANAGING TOURISM TO KAKADU
It is with great pride and care that indigenous owned Kakadu Tourism operates as a tourism entity within Kakadu National Park sharing the Traditional Owners way of life. With a commitment to sustainability in all that we do, Kakadu Tourism continues to embrace and share with visitors the sustainable local way of life (check out what we are doing here). Whether that be 'slow shopping' at Warradjan Aborigional Culture Centre, partaking in a weaving class, discovering local bush tucker or treading lightly and respectfully when out exploring different areas of the park.
From practical programs such as the solar farm to the on-site water tanks, with many more initiatives to come, the sustainable management of Kakadu remains the foundation of the Traditional Owners and all that are lucky enough to step into these most incredible place.
TIME TO TAKE A BREATH
A holiday to Kakadu is for those wanting to take a moment… a moment to breath, a moment to just be. A moment to feel the spirit of Kakadu. A moment to connect with country. It is a deep cultural and spiritual experience. There is no place like Kakadu!