It's not a surprise you're planning an adventure to Australia's largest national park. The 20,000km² of land is home to breath-taking natural wonders and unique rock formations.
There are plenty of things to do here, from off-road adventures to fishing and hiking packages. It's an oasis for kids, adults, and everyone in between.
But to get the most out of this once-in-a-lifetime adventure, there are a few things to know before you set off.
So, read on to discover our guide to Kakadu fishing and hiking!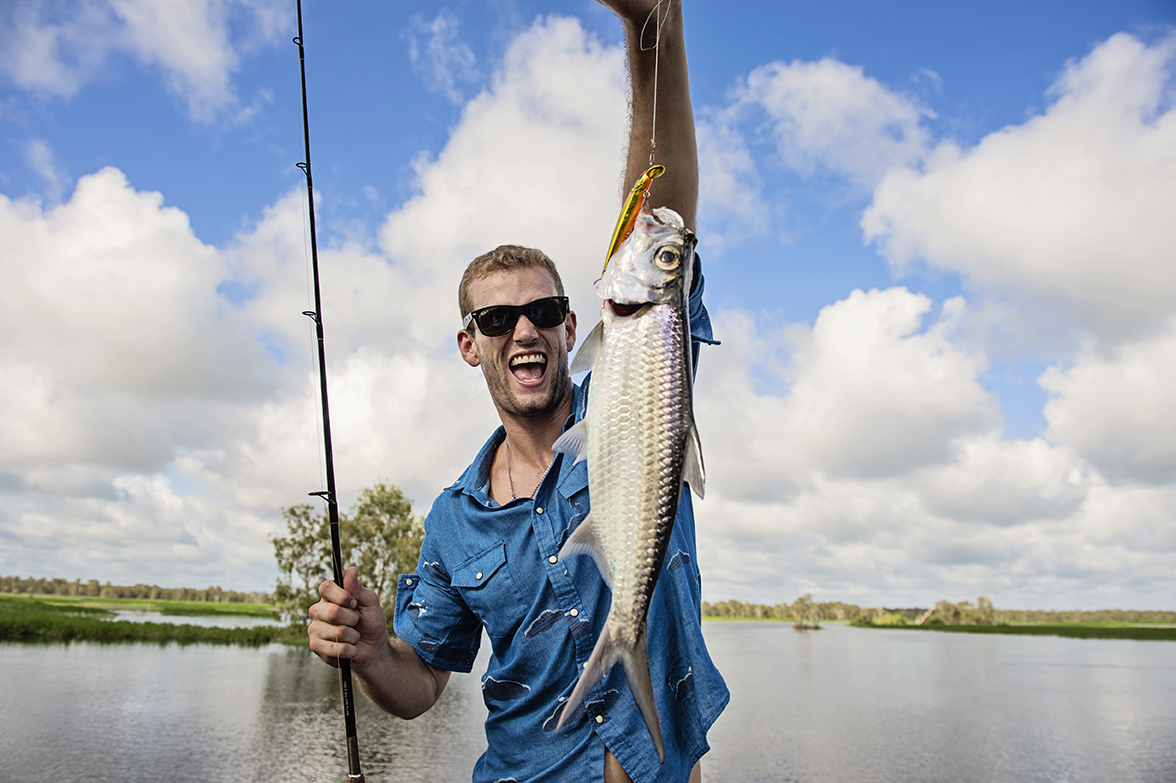 Easy Hiking Trails in Kakadu National Park
Kakadu is home to 26 walking trails. Each one has different qualities and ranges from easy to difficult. Luckily there are trails here to suit you, whether you're a beginner or an experienced hiker.
Bukbukluk Lookout Walk
Bukbukluk Lookout Walk is our favourite easy hiking trail. And once you visit, you'll instantly notice why.
With such minimal effort, you achieve maximum satisfaction. The trail is less than half a kilometre and takes only 40-50 minutes.
Once you reach the finish line, you're met with stunning views overlooking the park. It's a perfect spot to enjoy a picnic and a refreshing drink.
Ubirr Walk
The Ubirr Walk is a 1km looped trail through the thick foliage. Along the way, we come across historical rock art, a dominating lookout tower, and some exquisite scenery. Although it's slightly more strenuous than the first trail, it's still an easy route. 
You can self-explore or take one of the Kakadu hiking packages to dive deeper into the history of the region.
Moderate Hiking Trails in Kakadu National Park
Moderate hiking trails are for those who don't mind a bit of hard work but are far from being experienced hikers. You can find our favourite routes below!
Maguk Walk
Maguk Walk Trail is arguably our favourite walk in the park! The track is 2km long and takes around 1.5 hours to walk at a steady pace. 
Many refer to this as the walk to paradise. After seeing the gushing waterfall and sandy creek, it's easy to see why. 
On a hot summer's day, you can take a dip and cool off in the relaxing waters. 
Jarrangbarnmi Walk 
The Jarrangbarnmi Walk is a moderate-difficult trail. The 2km return track takes 1.5 hours to walk through the rugged terrain.
The area has many rare species, including the hooded parrot and Gouldian finch. You can even find crocodiles in the creek. 
If you wish to camp here, you must obtain a permit.
Difficult Hiking Trail in Kakadu National Park
Strenuous hiking trails are for all who enjoy pushing themselves to the limit and diving deep into nature. 
Twin Falls Plateau Walk
Twins Falls Plateau Walk is the most strenuous hiking trail in Kakadu. The route is 6km long and takes over 5 hours to complete. 
Although there's a lot of hard work, it's all worth it. We come across jaw-dropping scenery every time we hike this route. No matter how much you do it, the views never get old.
Please drink at least 1 litre of water per hour and take breaks in the shaded areas.
Fishing in Kakadu National Park
You can't say you visited Kakadu National Park without fishing! You can go solo or check out a Kakadu fishing package.
Barramundi is a famous catch in the region, but there are plenty of other species to be caught. Jewfish, Saratoga, and Snappers are popular throughout the waterways.
Darwin is an eco-friendly city, only 150km west of Kakadu. So it's no surprise the owners of the park request you use sustainable fishing methods. And only fish in designated areas.
You can find the most popular fishing destinations below.
Alligator Billabong
Bucket Billabong 
East Alligator River 
Four Mile Hole 
Home Billabong 
Jim Jim Billabong
Mardugal Billabong 
Muirella Park 
Red Lily Billabong 
South Alligator River 
West Alligator Head 
Yellow Water
Explore Kakadu With Off-Road Adventures to Fishing and Hiking Packages
After reading our quick guide to Kakadu, you should just how exciting this slice of heaven is. Everything you could want from exploring the outdoors, you can find here. 
And if you want anything from off-road adventures to fishing and hiking packages, book your tour today for the best price!