Kakadu is Australia's largest national park—and this is saying something. The park spans some 20,000 square kilometres which, to put it into context, is about the size of the nation of Slovenia. Something that makes the park special is that over half of it is made up of Aboriginal land.
Another thing that makes Kakadu an amazing place to visit is the array of natural attractions contained there. The waterfalls and natural swimming pools are calling out for you to explore.
If you'd like to learn more about the best things to do in Kakadu, we've got you covered. Read on for all the need-to-know info.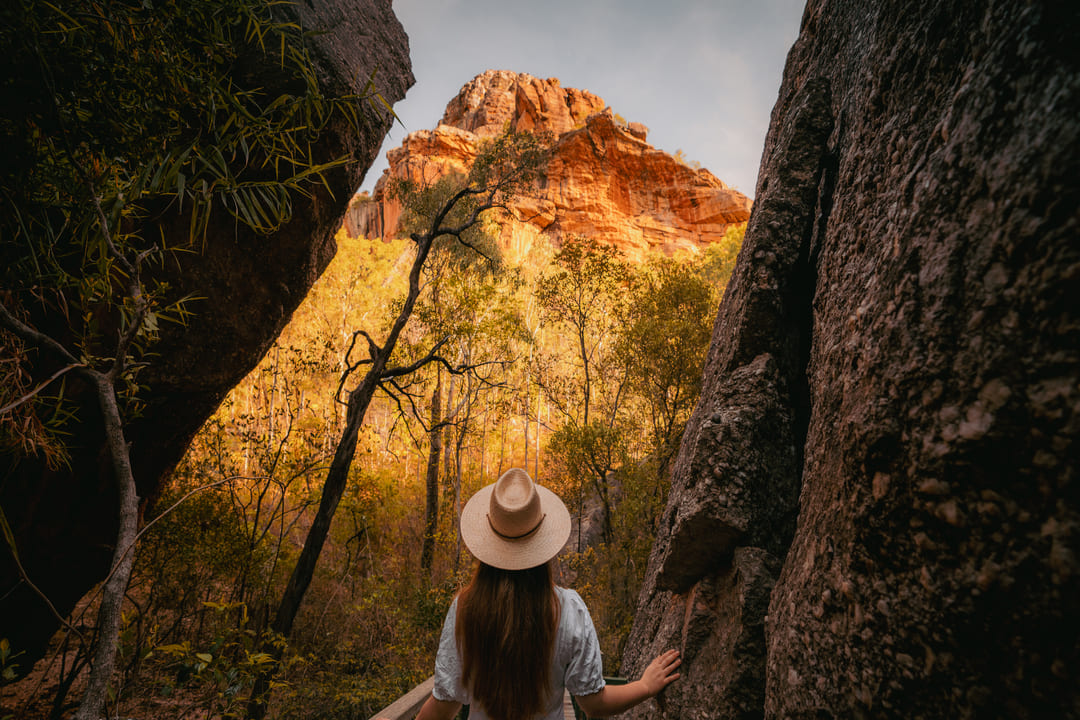 Wonderful Waterfalls and More
There are many natural Kakadu attractions. But some of the most abundant and stunning have to be the park's waterfalls and natural swimming pools. The beauty of the many water features is one of the big reasons for the park's world-heritage listed status.
Some falls in the park have the distinction of appearing in blockbuster movies, while others appear on the Australian National Heritage List. But their natural beauty is what captures the eyes and the hearts of visitors there.
Depending on the time of year and the climate conditions the falls can be viewed either from the air or land—both sights are equally stunning. There are practically too many beautiful waterfalls and plunge pools to include in one article so don't forget to check out our list for more details.
Wild Terrain Trekking
While many people choose to explore the park via 4WD, another way to get around is by trekking on foot. This is recommended if you really want time to take in the natural beauty of your surroundings. There are countless beautiful walks to take in Kakadu.
From novice walkers to experience hikers, there are walks for every difficulty, so you're sure to find one you'll love. If you're an avid trekker with a lot of experience and you want to take in some of the park's rock art then the Barrk sandstone walk is an excellent option. If you're looking for something that's easier on the feet but no less breathtaking then try the Manngarre rainforest walk.
Rivers and Wetlands
The park is filled with wetlands and rivers that are home to over 10,000 crocodiles. You can explore these areas either by walking, 4WD or by taking a scenic cruise through some of the waterways. If you're looking for a peaceful and placid activity sprinkled with hints of culture and history then cruises are a great idea.
Travel to Kakadu National Park
Between the famous falls, the crocs, the scenic walking routes and the gorgeous bodies of water, Kakadu truly has something for everyone.
Why not plan your trip today? If you're looking for more information on the park don't hesitate to get in touch with a member of our team today.