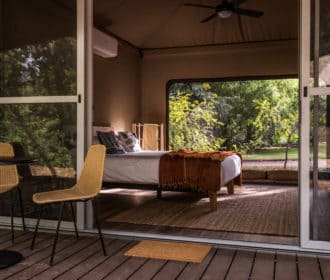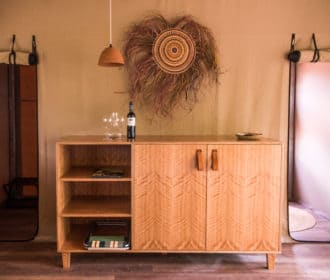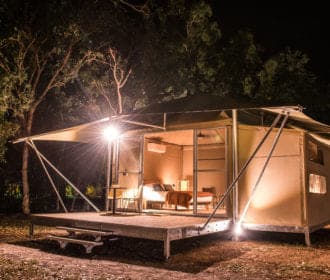 Kakadu's new glamping village, [email protected] is set to open on 1 July, offering high quality accommodation that combines the rustic attraction of the 'bush' with modern creature comforts.
Established on its own exclusive site in the grounds of Cooinda Lodge & Camping Ground,[email protected] offers 20 permanent upmarket Outback Retreat tents, set beneath a canopy of shady trees.
Along with ten glamping tents for couples, there are ten tents with a separate annex of bunk beds, making them ideal for families and friends travelling together.
The new glamping tents are built on an elevated platform to ensure year-round usability and minimal environmental impact. The canvas tents have one solid wall, a glass front door and a deck with outdoor furniture. All bedding feature high quality mattresses, toppers and linen.
Interiors have been designed to reflect the Kakadu bushscape and incorporate many Australian designed and hand-built elements, including locally produced Indigenous weaving and artwork.
The tents have lighting, air-conditioning, fan and bar fridge, and USB charging ports, along with cabinetry, storage and occasional chairs.
[email protected] Billabong has its own dedicated share bathroom and amenities centre.
The tented village site enjoys a premium position in the campground close to Home Billabong and the hotel's reception area and guest facilities, which include Barra Bistro, Mimi's Restaurant, a new fish and chip truck, coffee cart, two swimming pools, a general/gift store and petrol station.
Cooinda is Kakadu's most-established tourist centre located in the heart of Kakadu National Park, incorporating prime tourism attractions such as Yellow Water Cruises, Warradjan Cultural Centre and Kakadu Tourism 4WD Adventure Tours. It is also conveniently located to the Nourlangie rock art site, and for tours to Jim Jim, Twin Falls, Maguk and Gunlom.
The launch of [email protected] Billabong comes at a time when Kakadu celebrates the 40th anniversary of the declaration of Kakadu National Park, which established Kakadu as one of Australia's most important natural and cultural destinations.
Rates for the glamping tents during the peak season will be from $229 per night for a couples' tent, and $279 for a family tent. Rates are from $149 during the low season.