Kakadu's modern tourism origins owe a vast amount to former Crocodile Hunter, Tom Opitz, and his 'English Rose' wife, Judy Opitz, who opened a store on the banks of Jim Jim Creek in 1964.
Little did Tom and Judy know that their relatively modest foray into Kakadu would evolve into one of the Northern Territory's most important and renowned tourism enterprises.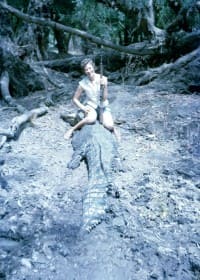 Judy Opitz shows off her 'catch'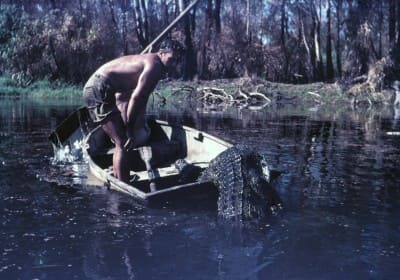 Crocodile hunter, Tom Opitz pioneered Cooinda and Kakadu Tourism
It started with a 'tent store', where people would stop by at for a cup of tea, fill up with fuel and buy necessities. Tom added the name 'Cooinda' because it was Aboriginal for 'Happy Meeting Place' but visitors weren't convinced.
"Why don't you just call it the Jim Jim Store? The name Cooinda will never catch on," they were told.
Tom, however, was adamant: "We might call this the Jim Jim Store, but we'll put the name Cooinda on the map and Cooinda Motel will become known worldwide." Tom may have said it in jest, but the couple were thrilled when, indeed, Cooinda became the official name for the area and the home of Kakadu Tourism.
Back in 1964, the Opitzs had anything but 'mod cons'. This was the outback and it was still very wild.
Judy had emigrated from England in 1958 and, two years later, met Tom, who worked at the Nourlangie Safari Camp as a guide, leading hunting and shooting parties for well-heeled American tourists. The 'English Rose' fell for the hard-as-nails bushie and in 1964 the couple built the store on Jim Jim Creek, which, in turn, led to the construction of the Cooinda Lodge.
The early days were perilous and they barely managed to navigate their first year, especially when Jim Jim Creek was in full flood, cutting them off for weeks at a time, but they remained resilient and the seeds of organised Kakadu tourism had been successfully sown.
Judy's story was the inspiration for Nicole Kidman's character, Lady Sarah Ashley, in Baz Luhrman's Australia…the genteel English woman who turns up in the territory with a look of horror on her face and ends up loving it.
Husband Tom died in 1982, but it didn't stop Judy's love for Kakadu. At the age of 72, she entered University and wrote a thesis on the archaeological significance of two Australian heritage sites – Port Arthur Penal Colony (in Tasmania) and, naturally, Kakadu National Park – and examines the different ways each site's archaeological history is presented for visitors.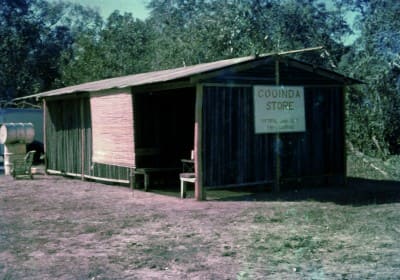 How it all started – the original tented Jim Jim Creek 'store'gave birth to the Cooinda name and tourism business
She not only received a PhD (at 84) but went on to write her autobiography 'An English Rose in Kakadu', which can be purchased from the Cooinda Lodge and Warradjan stores.
The exploits of Tom & Judy Opitz were instrumental in opening up Kakadu to the international market. Today, roads carry visitors to the heart of Kakadu to see the wonders of the National Park.
Cooinda Lodge General Manager, Brett Skinner, says that it was lucky that Judy was able to document the early days of Cooinda, because it was not only a great story, but an inspiration for anyone involved in Kakadu tourism.
"Kakadu can still be a tough place in the middle of the wet, but today we have full communications, air conditioning, great facilities and roads that are passable most times of the year," said Mr Skinner.
"While conditions are obviously far better than they were 50 years ago, we still can offer visitors a remarkably authentic experience. In the middle of Yellow Water Billabong or a 4WD adventure tour they will be the only humans in the midst of a pristine and spectacular landscape.
"It is one of the greatest satisfactions in my job to talk to visitors who are seeing Kakadu for the first time and are just blown away by what they've experienced.
"We owe Tom & Judy a huge debt of gratitude for their pioneering efforts."
Judy had to return to the UK, where she lives in a nursing home in Cambridge, but her heart is still very much in Kakadu, and – at the age of 90 – is still busy writing, with a book called 'Kakadu to Kurdistan: A Journey to Peace' underway. The idea is that a message of peace could be passed on by travellers as they tread the globe.
For Judy, Kakadu opened up a new world for her, and she hopes that more travellers from around the world will follow in her footsteps and discover the magic and grandeur of this ancient land.