As a World Heritage-Listed National Park that is approx. 20,000km2 in size, Kakadu has many sites to see. From swimming holes, to escarpments, billabongs and waterfalls, there are many secrets to this magical place. Some secrets are better kept than others - Maguk (rhymes with cook) is one of the worst kept "secret spots" of the national park. A firm favourite place to visit by locals, it is a beautiful swimming spot that is accessible only during the dry season. Just ask anyone who lives in the Top End and they'll tell you all about it. If you're wondering when the dry season is CLICK HERE for more information on the seasons of Kakadu.
View this post on Instagram
Previously known as Barramundi Gorge, Maguk is a gorgeous swimming hole of crystal clear water that is fed by a waterfall. To get here though you will need to take your four-wheel drive offroad, as you often do in country such as Kakadu, and then take a short hike before you will get to the gorge. It is a 14 km drive from Cooinda, 12km of which is offroad, and a 2km return hike. The drive itself may be a bit bumpy for the uninitiated so if you prefer, you can book yourself into The Spirit of Adventure Tour which will take you there.
A path, marked only by the occasional arrow in the rock, will lead you through "monsoon forest", over jagged rocks, through the river (which may have crocs in) and along its sandy, sometimes even beach-like banks. National Parks do their best to remove crocodiles every year from Maguk however as a rule you should always exercise caution when entering any waterway in the NT. The hike is considered very easy so anyone with a basic level of fitness will be able to do it.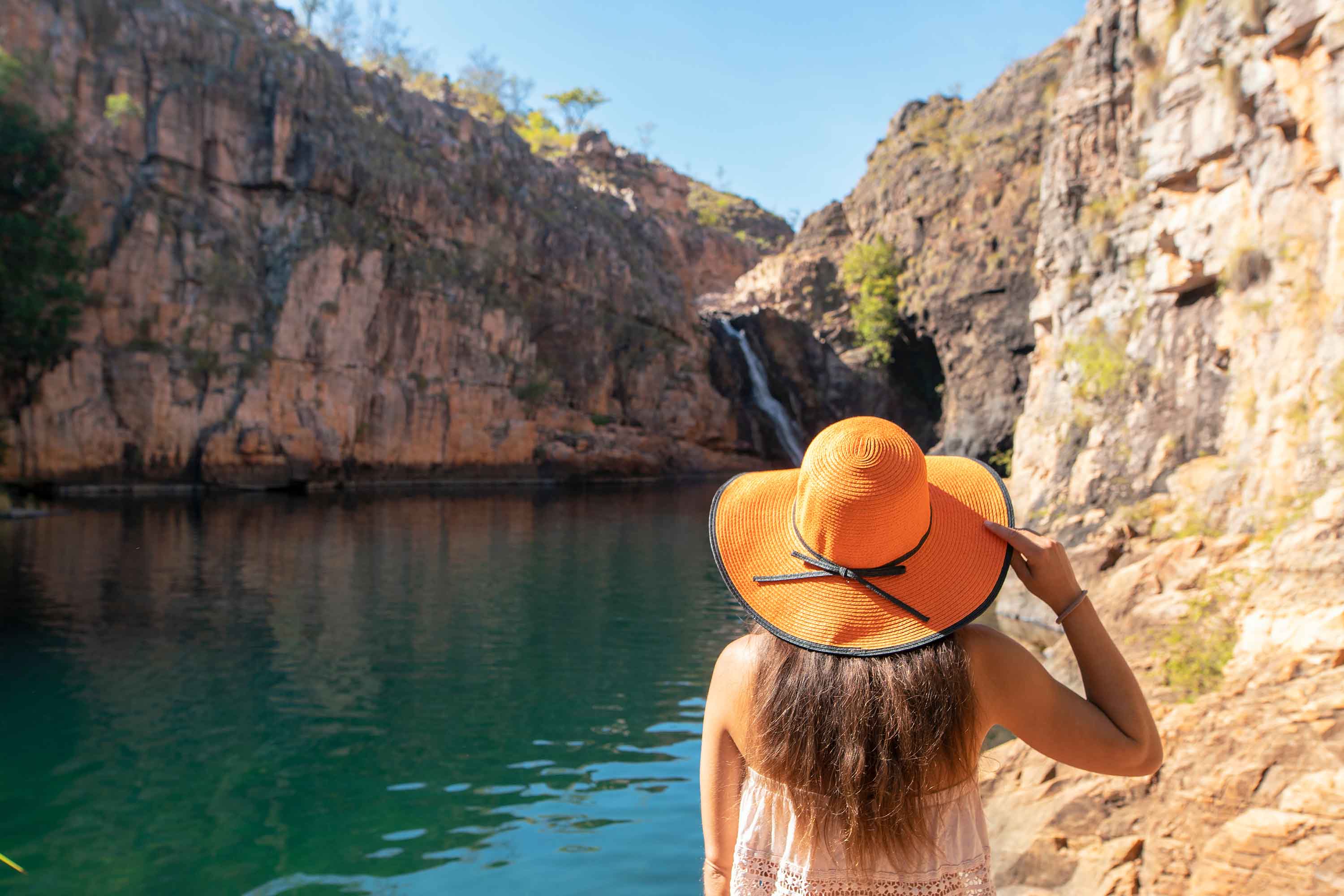 After your short hike through the lush forest you will find yourself in Maguk Gorge where a pristine waterfall flows into a crystal clear plunge pool surrounded by steep gorge walls. Jump in the water and marvel at the treelined banks, surrounding boulders and rock walls, and watch the many species of fresh water fish swim around you. The sandy banks of the gorge are the perfect spot for a picnic as you continue to take in what can only be described as one of natures play grounds.
View this post on Instagram
When you are ready to explore a bit more, there is an unmarked track which will lead you up to the top of the waterfall. You will be rewarded with a birds eye view of the gorge and a series of rockpools that you can swim in. Be careful though as there is one swim hole which once in, you can only get out of by swimming down a couple of metres and through an underwater tunnel. Not for the faint of heart. The hike to the top is very short but considered more moderate to hard as it is quite steep at times.
Maguk is a must see for any visitor to the park and easily done in half day. Make sure that you check the Parks Australia website to ensure the track is open before you set off to explore, pack yourself a lunch, and drink plenty of water throughout the day. We'd love to see your photos so be sure to use #kakadutourism to share your adventure with us!