With a kaleidoscope of landscapes and an abundance of wildlife, Kakadu National Park offers the adventure seeking traveller an experience like no other - a place where you can step back in time and truly feel the spirit of this special place.
From towering escarpments, refreshing waterholes, vast floodplains, cruising crocodiles, busy birdlife, ancient rock art and stunning woodlands, adventure is but just a step away.
Get ready to be tempted with the adventure that awaits for you at Kakadu!
CYCLING IN KAKADU
If you enjoy getting your heart rate up with off-road cycling, you will love the thrill of the dirt tracks available at Kakadu or if you can join a small group tour and set off on a different adventure each day.
Cycling is a great way to explore Kakadu between May to September as dirt roads are typically closed during the Wet Season (Oct-Apr).
A typical cycling adventure itinerary through Kakadu would see you start in the northern end of the park visiting Ubirr where you can take a stroll around the rock art before a short hike up to Nabib lookout overlooking the East Alligator River Floodplain.
A stop or stay in Jabiru to see Murrawuddi Arts & Culture centre or cool down with a refreshing drink at Mercure Kakadu Crocodile Hotel before heading south to Burrungkuy Rock Art (Nourlangie Rock). Take a walk along the base of the escarpment and step into the natural gallery of ancient rock art where you will be mesmerised by the indigenous paintings and pure peacefulness of this place.
Heading further south, next is stunning Maguk Falls! Located around 10km off the Kakadu Highway, you can cycle in and then walk through the monsoon forest before arriving at Maguk waterhole where you'll be ready to cool off with a dip in this natural swimming hole.
Continue to head south and you'll make your way to Kooplin Gorge, a 70km each way ride on an unsealed road so be sure to have plenty of water.
Now in the southern end of Kakadu National Park, you can continue your way south to Pine Creek on the Stuart Highway or turn around and head back up north to Cooinda or Jabiru before heading back to Darwin. Kakadu Highway which runs from the north of the park (Jabiru) to Pine Creek in the south is a sealed road and just over 100 kilometres long.
HIKING IN KAKADU
Kakadu National Park is a hikers paradise with walks to suit every fitness level and preferred distance.
With many walks available in the park, you can choose from a variety of short and easy day walks to more challenging full-day walks or even extended overnight hikes. Overnight walks require a high level of experience and can be very physically demanding so best suited to those who are physically fit and can navigate with confidence using a compass.
Here's a list of Kakadu National Park Walks we know you'll wait to tie up your boot laces for:
EASY
Anbangbang Billabong walk
Located in the Burrungkuy (Nourlangie) region, this walk is a loop track graded easy and is 2.5km taking around 1 hour to complete.
Bardedjilidji walk
Located in the East Alligator area, the Bardedjilidji walk is a 2.5km loop taking around 1.5hrs and is graded easy.
Bowali Track
A return track with a 4km distance taking approximately 1hr and graded easy, the Bowali Track is in the Jabiru region.
Bubba Wetlands Walk
Featuring billabongs and swamps dotted with lillies, Bubba wetlands is a 4km loop walk taking around 2hrs. It is in the Nourlangie region and graded easy.
Bukbukluk lookout walk
Just a short walk of 0.4km, this walk is suited to those looking to enjoy a picnic with a view. Graded easy and located in the Mary River region.
Burrungkuy (Nourlangie) main gallery and shelter walk
A must do walk on your visit to Kakadu, this walk is where you'll find some of the world's oldest rock art and spectacular views of the Arnhem Land escarpment. It is a return track, 1.5km in distance and is graded easy. It is recommended to allow 2 hours for the walk so you can enjoy Anbangbang gallery and make your way to the Kunwarddewardde lookout.
Kungardun walk
A great early morning or late afternoon walk through the open woodland habitats. Located in the Yellow Water region, it is a loop track with a distance of 2km, graded easy with a recommended walk time of 1 hour.
Kungarre walk
Get your camera out for great photo opportunities on this 3.6km circuit. Passing through three habitats, hikers can be on the lookout for Rainbow pittas, orange-footed scrub fowls, fantails, finches, jabirus, eagles and jacanas! This is a loop walk graded easy and the recommended time is 2 hours.
Mamukala wetlands walk
Bird-watchers this one is for you. Magpie geese, kites, comb-crested jacanas, cormorants, willie wagtails, purple swamp hens, finches and kingfishers call these wetlands home and congregate in this magnificent billabong making it one of the best in Kakadu for birdwatching. Located in the South Alligator region, this is a return track hike, 3km in distance, graded easy with a suggested walk time of 1 hour and 30 minutes.
Manngarre rainforest walk
Three short loop walks are on offer at Manngarre rainforest walk and can offer you shelter from the heat of the day beneath the cool, shady leaves. The walk distance is 1.5km, graded easy and time required is 1 hour.
Mardukal Billabong walk
A relaxing walk that takes you around picture-perfect Mardukal Billabong. It is a 1km loop walk, graded easy and can be completed within 30 minutes.
Yilikadjarr walk
This walk starts from either Malabanjdbanjdju camp site or Burdulba camp site and takes you through open woodlands near Burdulba Creek and Billabong. Open during dry season, graded easy, 3.8km in distance and time required is 1 hour.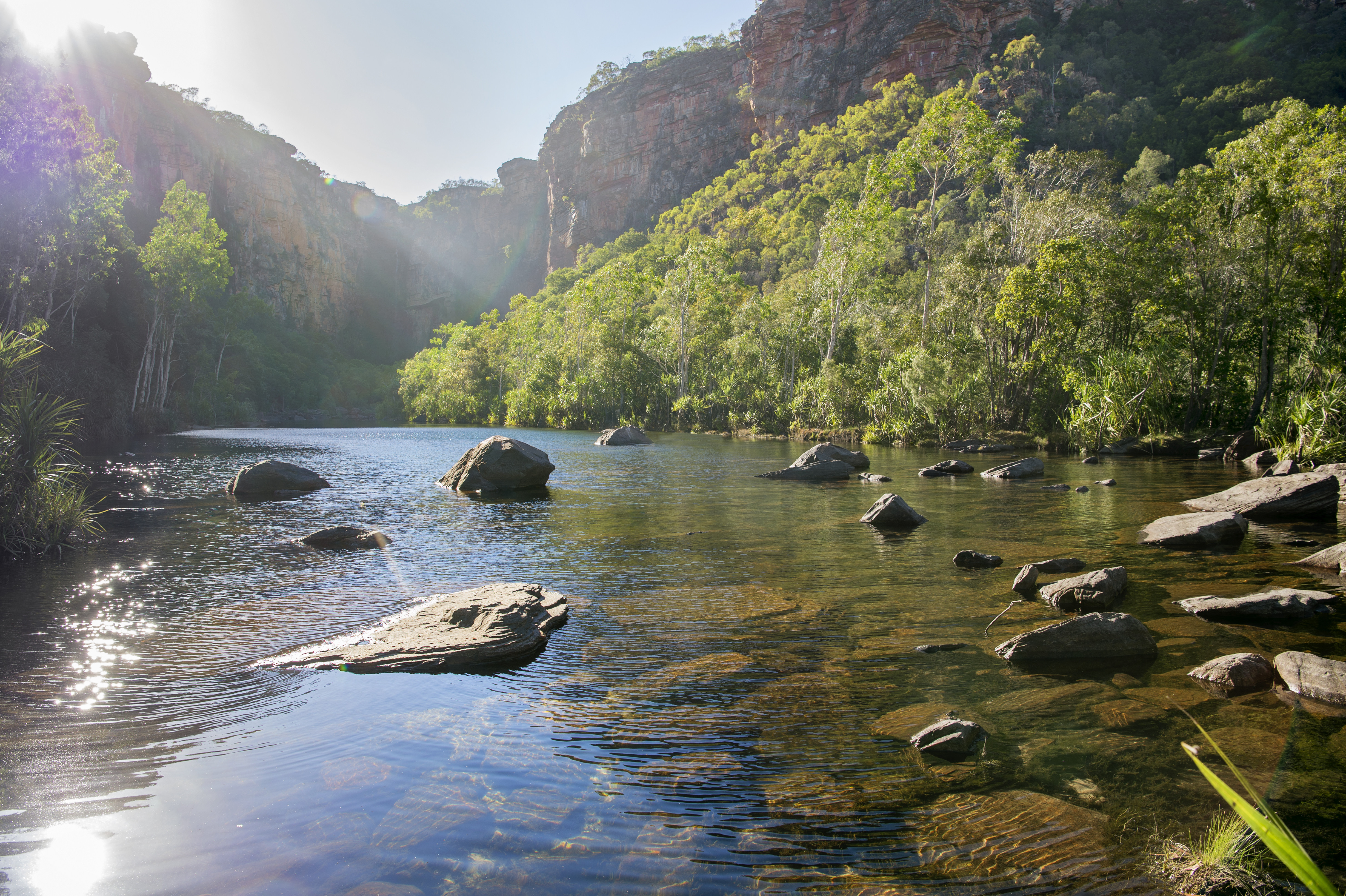 EASY TO MODERATE
Kubara pools walk
Accessible all year round the Kubara pools hike is a 6km walk through idyllic savanna woodlands, sandstone country and monsoonal rainforest. It is graded easy to moderate with a recommended time of 4 hours.
Nanguluwurr art site walk
An easy to moderate 3.4km hike on a return track taking approximately 2 hours, hikers can enjoy a peaceful walk through woodlands before arrive at the rock art site.
Ubirr walk
Located in the East Alligator region, the Ubirr walk is one of the most famous spots in Kakadu with its combination of ancient rock art and stunning lookout over the Nadab floodplain. It is a loop track with a 1km distance, graded easy to moderate with a suggested walk time of 1 hour.
Seasonal closures apply.
MODERATE
Badbong Wodjmeng sandstone river walk
This walk is great for croc-spotting and is a more challenging walk along the shores of the East Alligator river. It is a 6.5km loop track that passes sandstone rocks and pandanus-fringed pool - not for swimming though! Graded moderate and with a suggested walk time of 4 hours.
Budjmi lookout walk
Departing from the picnic area at Jim Jim Creek crossing this walk takes hikers to the top of a rocky outcrop where you are rewarded with Kakadu's endless skies and a view over the woodlands and escarpment cliffs. Taking around 45 minutes, the walk is 1km in distance, graded moderate and is a return track.
Maguk walk
Hike through monsoon forest and along a sandy and rocky creek to a small waterfall. Located in the Mary River region, the Maguk walk is 2km return track, graded moderate and it is recommended to allow 1hr 30 minutes. Don't forget to pack your swimmers!
Seasonal closures apply.
Nawurlandja lookout walk
Be impressed with the vistas from Nawurlandja lookout as you look over Anbangbang Billabong to Burrungkuy, and the Arnhem Land escarpment. Located in the Burrungkuy region, this is a one way track, graded moderate and just 0.3km in distance. Recommended time is 40 minutes.
Twin Falls gorge walk
Dramatic scenery leads to a white, sandy beach and plunge pool. Only accessible during the dry season, the Twin Falls gorge walk is a return track, graded moderate with a recommended time of 2 hours.
MODERATE TO DIFFICULT
Jarrangbarnmi walk (Koolpin Gorge)
Jarrangbarnmi is home to some particularly rare species of wildlife including the hooded parrot, the Gouldian finch and barrk (black wallaroo). Hikers will also enjoy the stunning gorge with sparkling plunge pools making a great way to spend a day in Kakadu. Located in the Mary River region, it is a return track, graded moderate to difficult, with a distance of 2km and suggested walk time of 1 hour 30 minutes.
Jim Jim plunge pool walk
Famous for its 200m cliffs and thundering waterfalls, Jim Jim Falls is an iconic part of Kakadu. During the dry season, the falls stop running and you can hike into the heart of the gorge. Located in the Jim Jim and Twin Falls region, it is a one way track, graded moderate to difficult with a distance of 1km and suggested walk time of 3 hours.
Mirray lookout walk
It may be short at 2km but you will have a 360 degree of the north of the park. A more challenging hike, we suggest setting out early in the morning to avoid the mid day heat. Located in the Burrungkuy region, the walk is a return track, graded. Moderate to difficult with a walk time of 1 hr 30 minutes.
DIFFICULT
Barrk Marlam walk
Perfect for the experienced hiker, this is a very challenging 6 km walk. This marked day walk branches off the Jim Jim Falls plunge pool track and offers stunning views above the Jim Jim Falls escarpment. Located in the Jim Jim and Twin Falls region, it is a return track, graded difficult with a walk time of 5 hours.
Season closures apply.
Barrk sandstone walk
A 12km loop walk over and around Burrungkuy (Nourlangie), hikers get to enjoy spectacular views, experience a variety of habitats and see the Nangululwur art site. Located in the Burrungkuy region, this walk is graded difficult with a suggested required walk time of 6 hours.
Twin Falls plateau walk
Step into the remote and unspoilt wilderness of the Twin Falls plateau walk. A challenging day walk with a steep ascent to the top of the escarpment and once at the top, take in the jaw-dropping views down the 150-metre gorge. Located in the Jim Jim and Twin Falls region, this is a return track, 6km distance, graded difficult and with a suggested walk time of 5 hours.
Don't forget to pack water!
Kakadu National Park rangers highly recommend advance planning when looking to embark on an extended hike as it is essential to have the ability to navigate using a topographic map and a compass. For this reason, National Parks require a permit to be acquired.
FISHING IN KAKADU
Be ready to get hooked on fishing in Kakadu! With a variety of fish, including the deliciously famous barramundi, combined with the pristine environment of Kakadu make it the perfect getaway to relax and reconnect with nature.
With easily accessed sealed roads and concrete boat ramps there are dozens of pristine billabongs with plenty of barramundi and Saratoga ready to be caught.
Here's list of popular fishing spots in Kakadu:
Alligator Billabong
Bucket Billabong
East Alligator River
Four Mile Hole
Home Billabong
Jim Jim Billabong
Mardukal Billabong
Muirella Park
Red Lily Billabong (Djunda)
South Alligator River
Two Mile Hole
West Alligator Head
Yellow Water
If you're visiting between October and March each year, try your luck at catching the Million Dollar Fish. In addition to the Million Dollar Barra, there's also 112 $10,000 tagged fish released across the NT including Darwin, Kakadu, Arnhem Land, Tiwi Islands and Katherine. Hooked?
And remember, as you are fishing in a National Park that has been home to the traditional owners for over 65,000, the park's traditional owners ask that you use sustainable fishing practices and be croc wise at all times. To ensure long term sustainability, and to rebuild at risk reef fish, there are fish possession limits and requirements to have the correct safety gear. You can download the Kakadu National Parks Fishing and Boating guide here.
If you're visiting from interstate or overseas and don't have your fishing gear with you, you can join a fishing tour! Kakadu Tourism offers a 3 hour fishing experience on Yellow Water Billabong or Home Billabong (during the wet season). All of your equipment is provided on this tour, plus an experienced fishing guide will help you perfect your cast. You can even take your catch back to be cooked for dinner if staying at Cooinda Lodge.
Top Tips!
1. Don't forget to grab your Park Pass when visiting Kakadu! You can purchase them online or you can pick one up at Cooinda Lodge or Bowali Visitor Centre.
2. Kakadu National Park is open all year however during the Tropical Summer (Oct-Apr) roads and some areas of the park may be closed so be sure to check Kakadu Access Report before you arrive
3. Even as Australia's biggest national park, Kakadu can get quite busy, so we recommend booking your accommodation in advance especially if coming for an event or during peak season.
No matter what adventure awaits you in Kakadu, remember to be prepared each day with plenty of food and water. Both food and water are available from Darwin, Jabiru, Cooinda Lodge and Pine Creek which is located just outside the southern end of the park (90km north-west of Katherine on the Stuart Highway).
We cannot wait to welcome you to Kakadu where your next adventure awaits!