CREATE YOUR OWN ADVENTURE DURING OUR TROPICAL SUMMER AT MERCURE CROCODILE HOTEL
FREE CANCELLATIONS / 100% MONEY BACK GUARANTEE
Kakadu is at its most spectacular in the tropical summer, as the rains refresh and revitalise the landscape, turning everything a vibrant green. This is the time where you will see waterfalls at their most thunderous, wetlands at their greenest, and wildlife at its most abundant.

While you can expect thunder and lightning on many evenings, during the day there is plenty to see and experience, and with sealed roads throughout Kakadu National Park, it's easy to get around. And best of all it's much quieter with less crowds.

Experience the waterfalls.
There are still waterfalls open to view up-close at both Motor Car Falls and Moline (Ikoymarrwa), where you can also cool off in the swimming holes.

Remarkable cruises run year-round.
Yellow Water Cruises operates cruises throughout every day of the tropical summer season. The stunning waterways, filled with Kakadu's wildlife – from gigantic crocs to tiny, vivid kingfishers – are best seen at dawn and dusk. 

Million-dollar fishing is at its best during the tropical summer.
Until the end of March, the Million Dollar Fish competition offers fishing enthusiasts the chance of hooking a million-dollar tagged barramundi and 100 others with $10K tags). Try your luck!

Inspirational tours run all year round. Explore the park in your own 4WD or take a fully-guided and catered Spirit of Kakadu 4WD Adventure Tour, which will take you to some of the best locations around Kakadu.

Hiking & Nature. Many walks are open throughout the summer which are easily accessible and will provide a rich appreciation of the ancient landscape. These include the Kubara Pools Walk, Gungurul Lookout and River Walk, and walks around Nourlangie Rock, made famous by the Crocodile Dundee film.

The world's oldest living culture.
Kakadu has over 65,000 years of human settlement, and the incredible rock art at Nourlangie and Ubirr is a testament to the region's cultural heritage. Modern-day indigenous art can be viewed at art galleries in Jabiru, and you can discover the rich history of Kakadu's evolution at Warradjan Cultural Centre and the Bowali Visitor Centre.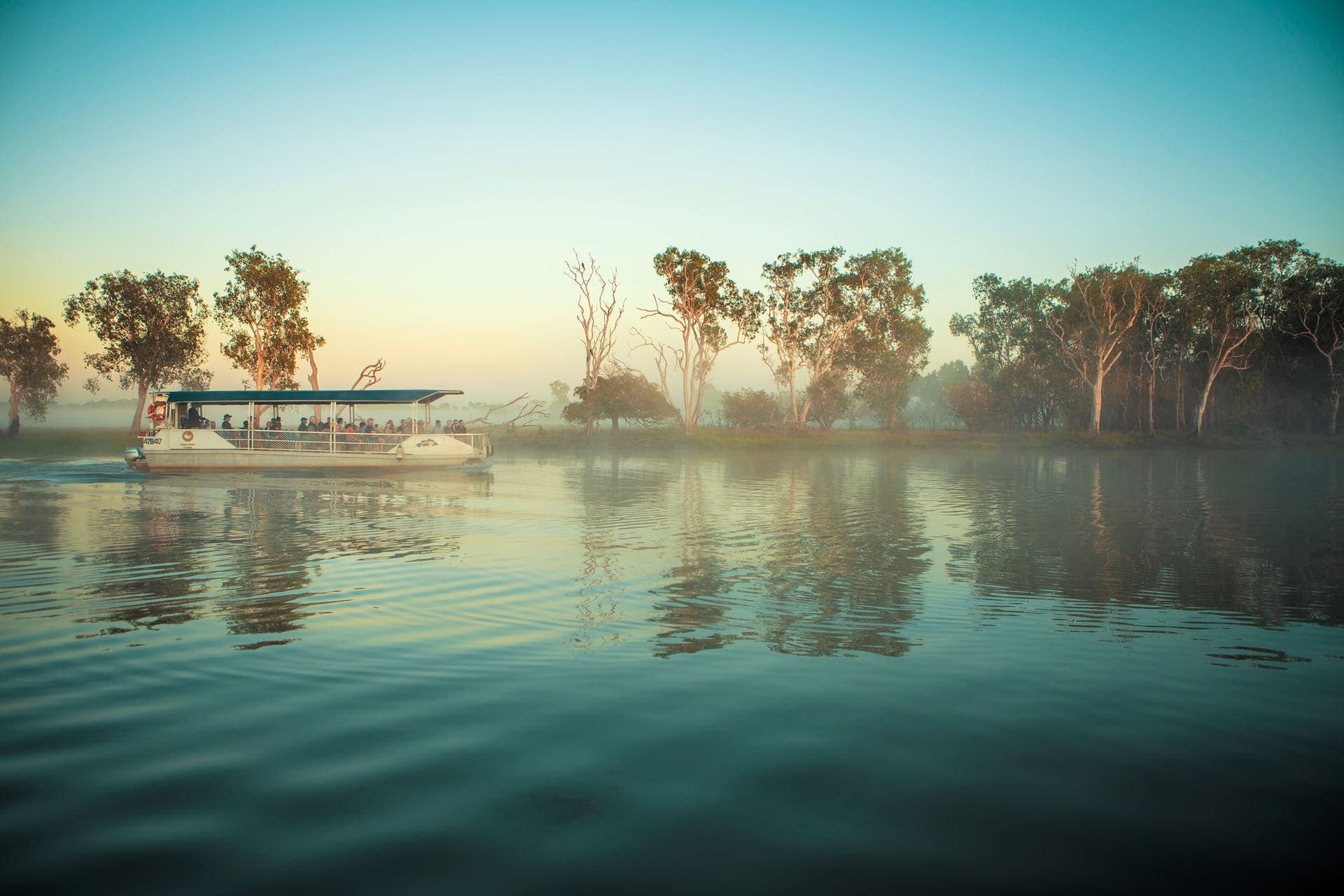 Kakadu Tourism Tropical Summer Deal
Two night's accommodation 
Full buffet breakfast daily
Sunrise Yellow Water Cruise
$100 food and beverage credit (one per stay) 
Free parking
Please note that flights and car hire are not included in the package price and should not be booked until your package has been confirmed.
WHAT TO DO – EXAMPLE ITINERARIES
WANT TO LEARN MORE ABOUT KAKADU?
PACKAGE TERMS
On sale now until sold out. For travel October, 2021 until 31st March, 2022. No blackout dates apply and bookings are all subject to availability on a first come first served basis. Prices and inclusions are correct as of August 2021 and may be subject to change due to availability, surcharges, fees or taxes without notice. Offer may be withdrawn at any time without notice. Prices are based on couples sharing and family offer for two adults and two children under the age of 12 sharing. Book direct through the link provided or please contact us on 08 8979 9000 or [email protected] to enquire. Airfares and car hire are additional unless otherwise specified. 
FREE CANCELLATIONS / 100% MONEY BACK GUARANTEE
We are all about flexibility. Book now and pay 24 hours prior to check-in time of 1400 hrs and if you have to cancel due to border restrictions, please let us know 24 hours prior to check-in time of 1400 hrs (or as soon as border closures are announced) and we will cancel with no penalty or additional fees.  If you need to change your booking to a later date, this will be done so free of charge within a 12 month period from the original arrival date.