Has Kakadu always been on your bucket list?  Well now is the time to make your dreams a reality. 
Immerse yourself in Kakadu National Park and visit the oldest indigenous culture in the world!  Check your watch at the door and lose yourself in the wonder that is Kakadu National Park. 
Stay in the comfort of Kakadu's only full-service hotel the Mercure Kakadu Crocodile Hotel, built in the shape of a crocodile the hotel pool is the 'heart of the crocodile. 
Visit the famous Yellow Water Billabong, take a flight over the waterfalls, check out the stunning vistas which go as far as the eye can see, meet the local wildlife, stare in awe at the indigenous rock art or swim in the unbelievable rockpools and waterfalls that make this destination world famous.  Then when you have soaked in all that Kakadu goodness, come and dine in the award-winning Escarpment Restaurant at night and enjoy a cocktail or two!
Inclusions:
One night stay in Kakadu National Park's Mercure Kakadu Crocodile Hotel
Full buffet breakfast for two
2-hour Yellow Water Billabong Cruise for two
Complimentary bottle of house wine with your evening meal at the Escarpment Restaurant
Price Per Couple from: $259
Price Per Family of Four (2 adults 2 children): $339
Extra nights, from: $145 per night
Or call: 08 8979 9000 and quote NTMR3 or email: [email protected]
Accommodation Options
Option 1 - Couples
Standard Queen Room - $259 per couple

Daily buffet breakfast for two
Two seats on the famous 9am Yellow Water Cruise
Bottle of house wine with evening meal
Free in room WiFi
Free parking
Superior Queen Room - $269 per couple

Daily buffet breakfast for two
Two seats on the famous 9am Yellow Water Cruise
Bottle of house wine with evening meal
Free in room WiFi
Free parking
Courtyard Room - $289 per couple

Daily buffet breakfast for two
Two seats on the famous 9am Yellow Water Cruise
Bottle of house wine with evening meal
Free in room WiFi
Free parking
Option 2 – Family (two adults and two children) - $339
Twin Room (two double beds up to four people) including:

Daily buffet breakfast for four
Four seats on the famous 9am Yellow Water Cruise
Free in room WiFi
Free parking
Please note that flights are not included in the package price and should not be booked until your package has been confirmed.
ITINERARY:
Accommodation
Have you ever visited a hotel shaped like a crocodile?  Well now is your chance.  Part of ACCOR, The Mercure Kakadu Crocodile Hotel is the only full-service hotel in Kakadu.  The hotel is an idyllic retreat located in the wilderness of Kakadu National Park. Situated in the township of Jabiru, it is the perfect base to start exploring many of Kakadu's most significant natural attractions such as Ubirr, Jim Jim and Twin Falls, Maguk, Gunlom Falls, Motorcar Falls, Nourlangie, Cahills Crossing & Mamukala Wetlands. Cool off in the large outdoor pool, the perfect oasis for relaxing in between discovery tours around Kakadu before feasting on Kakadu bush tucker & gourmet dining at the Escarpment restaurant and bar.
Escarpment Restaurant
Relax and enjoy a Taste of Kakadu at the Escarpment Restaurant and Bar for your included buffet breakfast or after a day of exploring Kakadu.
Escarpment offers special dishes providing the tastes and flavours of Kakadu, with tasting plates featuring 'bush tucker', including crocodile, buffalo and kangaroo. A wide range of international dishes are also available, along with full buffet breakfasts, light lunches and an extensive wine and bar menu.
Dining is offered in air-conditioned comfort, with outside seating available to enjoy a drink during balmy evenings. Restaurant fits up to 200 guests and includes our bar lounge.
Yellow Water (Ngurrungurrudjba) Billabong Cruise
The Yellow Water (Ngurrungurrudjba) Billabong Cruise is an essential Kakadu experience, any time of the year.  The cruise takes you on a discovery of the world-famous Yellow Water (Ngurrungurrudjba) Billabong and South Alligator River.  You will see native Kakadu wildlife and birdlife whilst hearing about the rich and diverse history of Kakadu.  The tour is a past winner of the Qantas Australian Tourism Award for Major Tour and/or Transport Operators, has exclusive use of Yellow Water (Ngurrungurrudjba) Billabong.
WHAT TO DO – EXAMPLE ITINERARIES
Day 1. Darwin to Kakadu
Set out early for your drive to Kakadu (under three hours' drive) and just before you arrive in Kakadu call into the Mamukala wetlands for an introduction to the remarkable birdlife that calls Kakadu home for part or all of the year.
Mamukala is at its most dramatic in the late dry season (prior to December), when thousands of magpie geese congregate to feed. There is an observation platform to view the birdlife, while a 3km walk adjacent to the wetlands is open for much of the year, and you may even get to see crocodiles by the shore, kangaroos, wild pigs and buffalo.
Call into Bowali Visitor Centre to find out the latest access details around the park and to view a fascinating display highlighting the plants, animals and landscapes that have contributed to making Kakadu a dual World Heritage-listed national park.
Drive 10 minutes to Mercure Kakadu Crocodile Hotel and check into Kakadu's only full serviced hotel.
Grab a bite to eat before driving back (30 minutes) to the Burrungkuy (Nourlangie) rock art site and Kunwarddewardde lookout (1 km return walk). The dramatic sandstone cliffs here are a wondrous sight. Take your time winding through shaded rock shelters
In the main (Anbangbang) gallery you'll see the Creation Ancestor Namondjok, and the Creation Ancestor Namarrkon, the Lightning Man. Climb to the Kunwarddewardde Lookout, and be rewarded with sweeping views of both Kakadu's escarpment and Burrungkuy (Nourlangie Rock).
If you have time, another rewarding walk is the 6 km Kubara pools walk, which takes in savanna woodlands, paperbark forests and monsoon thickets. The Kubara pools walk is open most of the year but is most popular during the tropical summer.
There's an abundance of birds here – listen to the calls of the helmeted friarbirds or try to spot emerald doves and banded fruit-doves darting about the tree canopies.
Finish your afternoon of exploration by climbing to the nearby Nawurlandja lookout to be rewarded with tremendous views of the park. This is a magical spot to relax and watch the colours change as the sun descends in the west. Amazing storms often roll in and put on a dramatic lightshow during the tropical summer.
Return to Mercure Kakadu Crocodile Hotel for a night of delightful cuisine or cooling off in the pool followed by cocktails at the bar.
Day 2. Cruises, rock pools and waterfalls
Plan an early wakeup for a truly memorable Kakadu experience. The Yellow Water Cruise through this wetland area of international significance floats through paperbark forests and past carpets of lotus lilies, populated by over 250 bird varieties, vast numbers of crocodiles and other wildlife. The two-hour cruise is complemented by expert commentary sharing stories of the landscape and Indigenous culture. You'll love the cruise so much that you might want to come back for a sunset or extra sunrise cruise at a specially discounted rate.
Stock up on snacks at Cooinda for a picnic lunch before heading south to Stone Country, the home of Kakadu's Jawoyn people to experience Kakadu the traditional way, walking on country.
First stop at Bukbukluk lookout (400 m easy loop walk) for beautiful vistas of Kakadu's southern hills and ridges. Keep an eye out for birds and wallabies.
Travel on the unsealed Gimbat road (check access report for conditions) to Yurmikmik and take the walking track to Boulder Creek (2 km return walk) or Motor Car Falls (7.5 km return walk). This is a stunning part of Kakadu that's popular with locals. At this time of year the surroundings are unbelievably green and fragrant. Sit and enjoy a picnic lunch in a truly unspoilt wilderness.
Return to Mercure Kakadu Crocodile Hotel for a cooling swim and drink by the pool before dinner.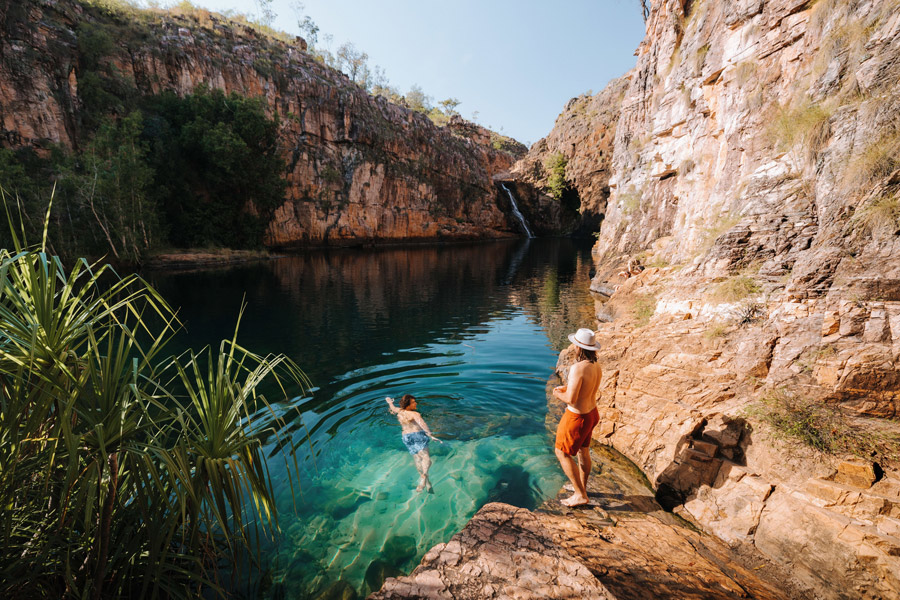 Day 3. A bird's eye view of Australia's most spectacular landscape
After breakfast, pack your bags and call into the Warradjan Aboriginal Cultural Centre for a fascinating explanation of Kakadu's living cultural heritage and European history. You'll see many artefacts, hear about kinship and personal stories from local Bininj/Mungguy (the Aboriginal people of Kakadu).  Artists are often present creating traditional paintings and crafts.
Drive to Jabiru and drop your bags into the world-famous Mercure Kakadu Crocodile Hotel. Fully Indigenous-owned, the locals just call it the 'The Croc', and with its comfortable rooms, quality restaurant and large shaded swimming pool, it's the only crocodile you'll want to end up inside!
Indigenous art is one of the highlights of visiting Kakadu, and you can view high-quality locally produced art at The Croc's Ochre Art Gallery and the Marrawuddi Gallery, where artists can be seen producing paintings.
Many visitors say that Kakadu is best seen in the wet season because nature is at its most powerful. Take a scenic flight in a helicopter or fixed-wing aircraft from Jabiru Airport (flights also go from Cooinda Lodge airstrip) and experience the grandeur and enormity of the landscape. It's a remarkable site to see Kakadu's iconic waterfalls such as Jim Jim and Twin Falls in full-torrent, and view the advancing waters as they flow across the wetlands.
Return to Mercure Kakadu Crocodile Hotel for a leisurely swim, a cocktail and some fine bush-tucker influenced cuisine at the Mimi's Restaurant or opt for casual outdoor dining at the Barra Bistro.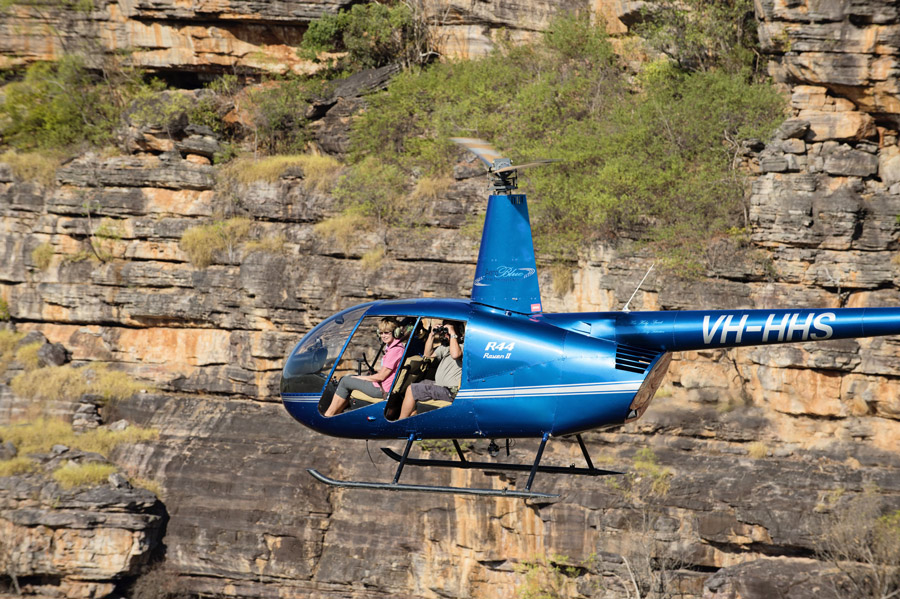 Day 4. A memorable cruise only available during the wet season
Have an early breakfast and be ready for a pick up at 8am for the memorable Guluyambi Combo Tour, (hyperlink to - https://www.kakaduculturaltours.com.au/index.php/ubirr-combo-tour) a five-hour 4WD/cruise combo that is only available during the wet season and the only way of accessing the Ubirr rock art site during this time.
The drive from Jabiru takes you through the East Alligator River district to the flooded Magela Creek, where you are transferred to a cruise vessel for a magical trip through the paperbark forests. Expert Indigenous guides provide  an insight into local Aboriginal mythology, traditional uses for many plants and animals, and bush survival skills required for this wilderness environment.
After departing the cruise you'll travel to nearby Ubirr Rock, where you'll view ancient rock art sites and experience the panoramic views from the lookout before returning to Jabiru by boat and 4WD.
Return to Jabiru and enjoy a relaxing lunch at Escarpment Restaurant before saying goodbye ('bobo') to Kakadu and returning to Darwin.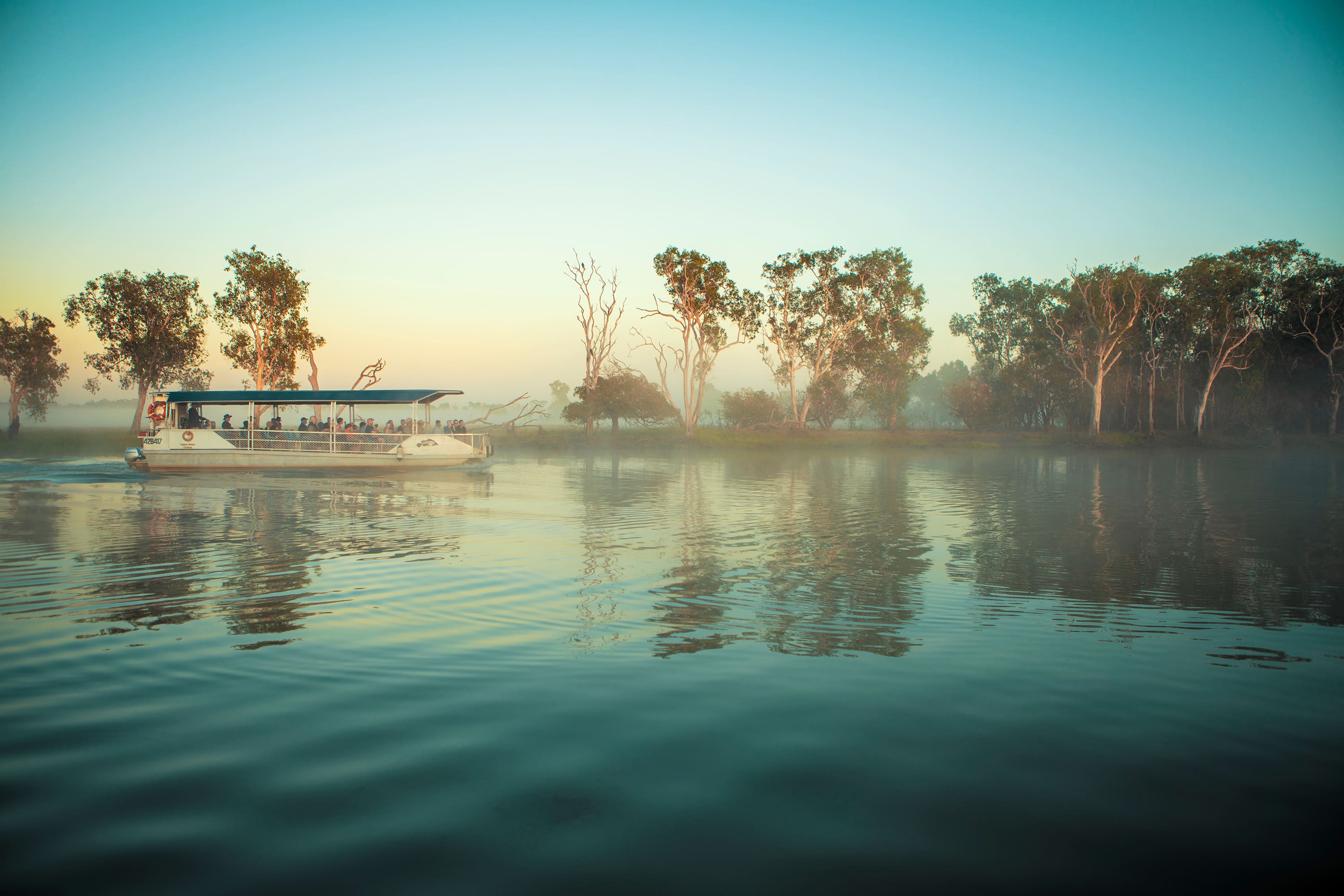 Bonus extra: A million dollar reason for visiting Kakadu during tropical summer
Add another day on your itinerary if you love fishing because not only are Kakadu's waters brimming with large fish, each year between October and the end of March you have the opportunity to win a million dollars for catching a tagged barramundi – the king of Kakadu fish.
The Million Dollar Fish competition (hyperlink to: https://milliondollarfish.com.au) started in 2015 but to date no one has caught one of the tagged million dollar barras (possibly because the crocs like them too and care little about the tags!). However, many $10,000 tagged Barras have been caught in Yellow Water Billabong and even if your Barra doesn't have a tag, it will taste like a million dollars on a BBQ.
If you want expert advice on fishing, either as an experienced or novice fishing enthusiast, you can join a Yellow Water Fishing cruise (hyperlink to: https://kakadutourism.com/trip-planning/yellow-water-fishing ) The tours are led by experienced guides, who know the waterways like the back of their hands and know exactly where the Barras are biting. They will provide all of the fishing gear and will coach you to cast, retrieve and how to make your lure the most attractive for a Yellow Water barramundi.
Package terms
On sale until 2nd October, 2021. For travel 26th July 2021 until 3rd October, 2021.  No blackout dates apply and bookings are all subject to availability on a first come first served basis. Prices and inclusions are correct as of 26th July 2021 and may be subject to change due to availability, surcharges, fees or taxes without notice. Offer may be withdrawn at any time without notice. Prices are based on couples sharing and family offer for two adults and two children under the age of 12 sharing.  Book direct through the link provided or please contact us on 08 8979 9000 or [email protected] to enquire. Airfares and car hire are additional unless otherwise specified. Bookings are fully prepaid and are subject to a flexible 48 hour prior to arrival policy.  Inside this time full cancellation penalties apply.