NAIDOC Week this year recognises the occupation of First Nations people for over 65,000 years with the theme Always Was, Always Will Be.
Kakadu events kicked off today with the Flag Raising Ceremony in Jabiru Town Centre followed by a BBQ & local health expo, and continue through to this week.
There is an action-packed agenda of NAIDOC Week events across Kakadu region with highlights including:
Thu 12th Nov: BBQ Movie Night at Mercure Kakadu Crocodile Hotel
Mercure Kakadu Crocodile Hotel has the privileges to host an amazing, fun, and memorable BBQ Movie night during this NAIDOC Week. BBQ is the perfect summer food and keep the entertainment going into the evening with an inspiring movie (Emu Runner) in air-conditioned Jim Jim Room! An event like this brings the local community together, the team at The Croc serve the locals from the heart, that's why it works, its genuine.
Fri 13th Nov: Weaving Exhibition at Cooinda Lodge Kakadu
Sit down with our traditional owners, the ladies will share their knowledge with you and pass on skills handed down through thousands of generations. They explain how they collect weaving materials, dye the fibres and show you how to weave beautiful, colourful mats and baskets. Then try making your own!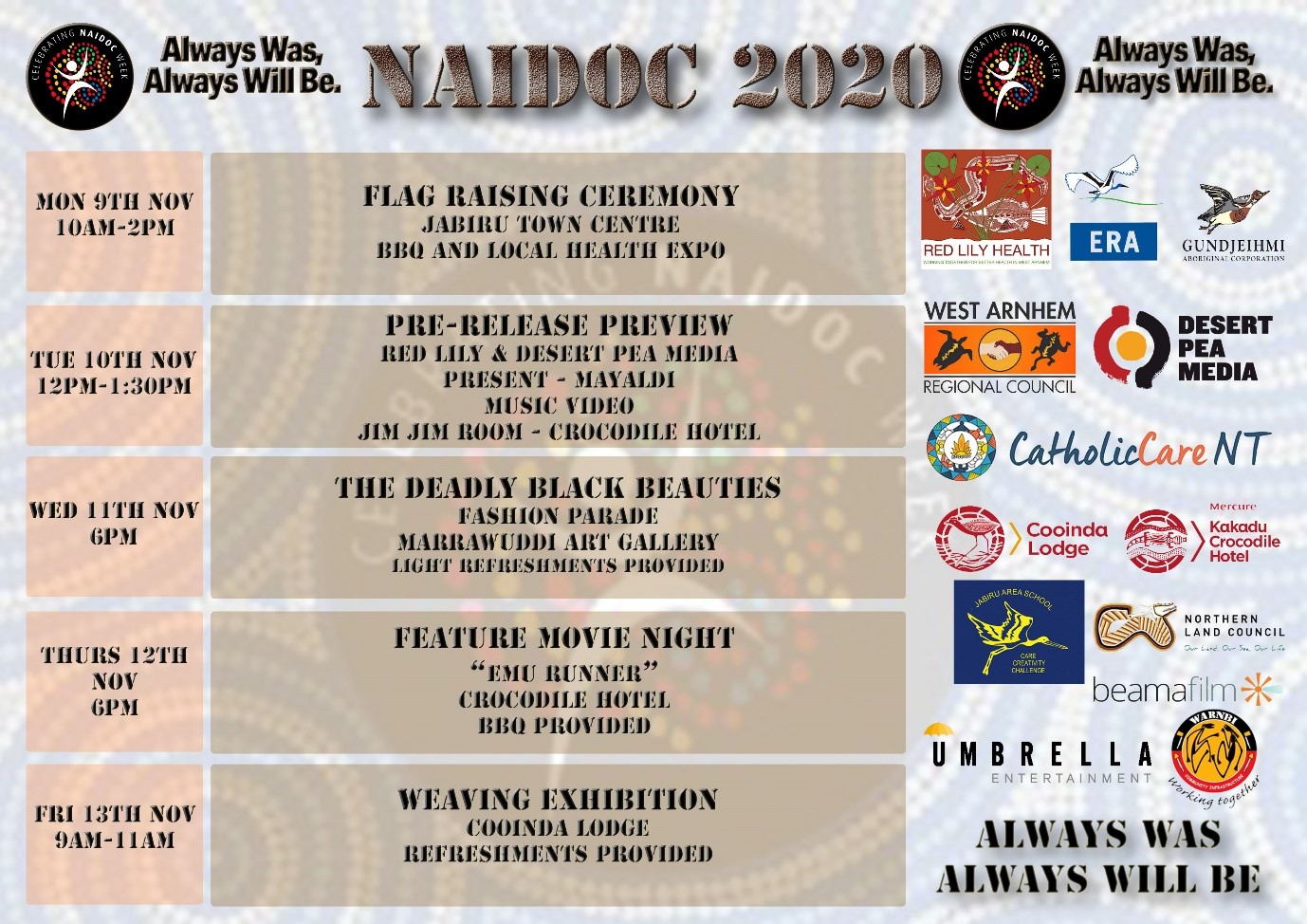 Why NAICOC Week is important to us:
Kakadu Tourism as a proudly indigenous owned business, NAIDOC Week to us is a sense of pride and belonging. We are all fortunate enough to be located in this incredible National Park that has the oldest continuous living culture in the world, and have all developed such strong and meaningful relationships with our local community.
NAIDOK week is a great time for Australians to celebrate this incredible culture, we get to be part of it each and every day.
Whilst we celebrate this culture every day, NAIDOC Week is a unique opportunity for each of you to learn about the history of this nation, and to connect with Aboriginal and Torres Strait Islander people's stories and culture.