Kakadu National Park is an epic wonderland of ancient Aboriginal art, spectacular landscapes, cascading waterfalls, and abundant wildlife. This breathtaking UNESCO World Heritage-listed site is a must-visit destination for nature lovers and adventure seekers.
Together with Tourism Northern Territory, we've compiled this destination guide so you know the best places to eat, stay and play while exploring the Kakadu region. Whether you're an adventure seeker, a nature lover or a history buff, this destination is one that should be on your bucket list for exploring the raw beauty of Australia's Top End.
When it comes to food, there are several excellent eating spots for the spirited traveller. Due to the remote nature of the area, many of these dining options also double as great places to stay. Grab a hearty meal at Cooinda Lodge's Mimi's Restaurant where locally foraged and sourced foods take centre stage — the menu embodies traditional Indigenous flavours with modern technique. Meals can be enjoyed at the restaurant or taken away if you are staying at a campsite nearby. Guests can also grab a bite at the lodge's second eatery option Barra Bistro and unwind after a long day of exploring in the outdoor dining area.
Tucked in the Arnhem Land Escarpment 1970s mining town Jabiru is now the largest town in the Kakadu region. Home to the famous Mercure Kakadu Crocodile Hotel's Escarpment Restaurant offers panoramic views of the floodplains — it's also shaped like a crocodile so that's fun — and dishes that promise to provide the taste and flavours of Kakadu. Chow down on some traditional bush tucker with the tasting plates featuring crocodile, buffalo and kangaroo, or enjoy international dishes and modern Australian cuisine with a strong focus on local ingredients. Aurora Kakadu's Bar and Bistro serves up classic pub food and if you're in the mood for Thai cuisine, Anbinik Thai should be on your list.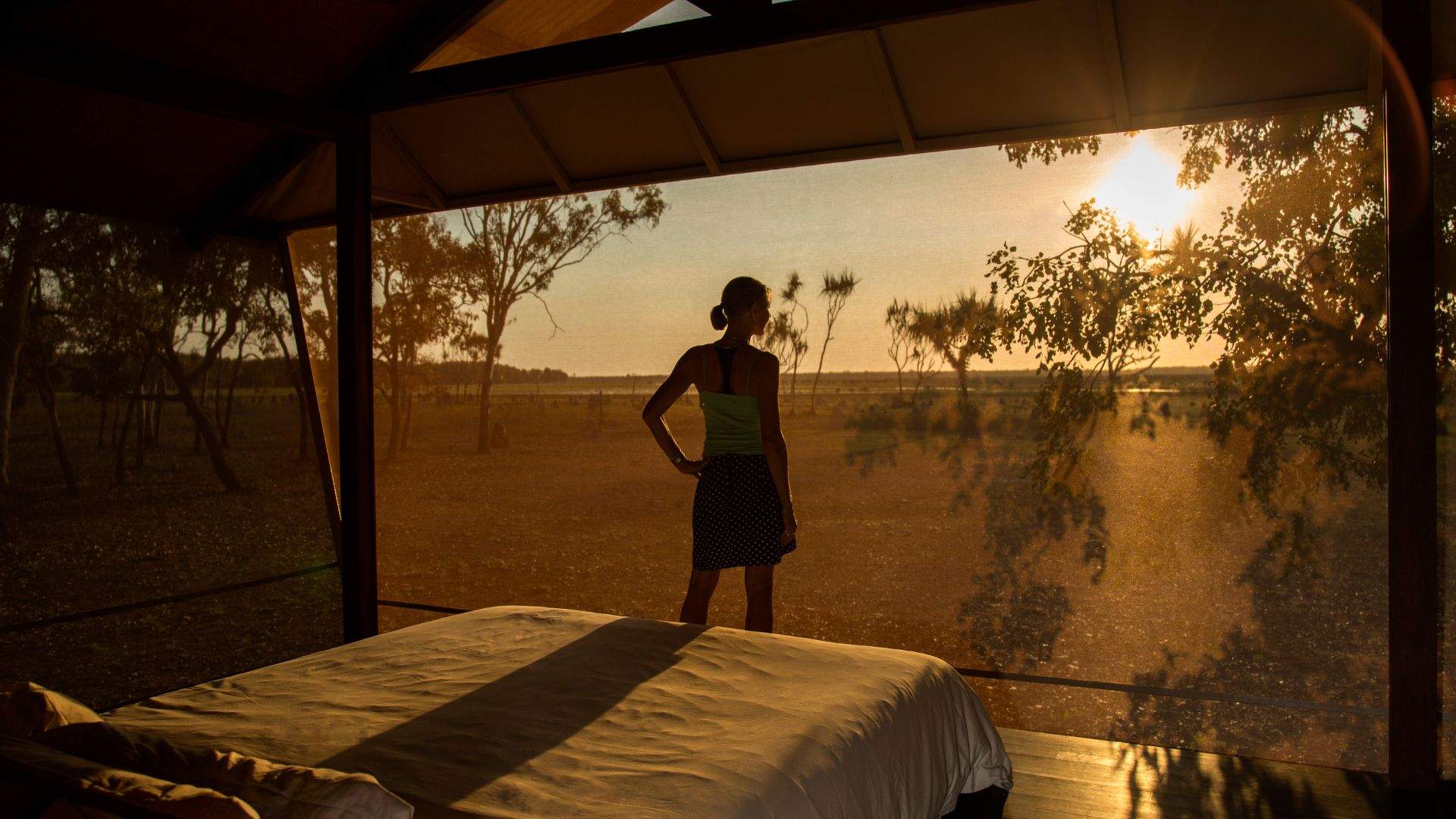 STAY
Choose between luxe retreats on the wetlands and safari tents in the heart of Kakadu
When it comes to accommodation, the aforementioned Cooinda Lodge is a perfect base for exploring Kakadu National Park. The village-style property offers a range of accommodation options, from hotel rooms to elevated outback retreat tents — both the hotel rooms and the luxury tents are air-conditioned. Cooinda Lodge has onsite restaurants and a bar, a shaded outdoor pool for cooling off, laundry, a gift shop and even a servo. The Warradjan Aboriginal Cultural Centre is just a quick five minutes away as well as many of the park's local attractions.
For a unique (and crocodile-themed) experience, stay at the Mercure Kakadu Crocodile Hotel in Jabiru — an excellent base for exploring many of the natural attractions of Kakadu including Ubirr and the wetlands. Cool off in the large outdoor pool before feasting on some bush tucker and gourmet cuisine at the Escarpment Restaurant. There's an on-site gallery displaying a collection of Indigenous art including paintings and didgeridoos — some are even available for purchase.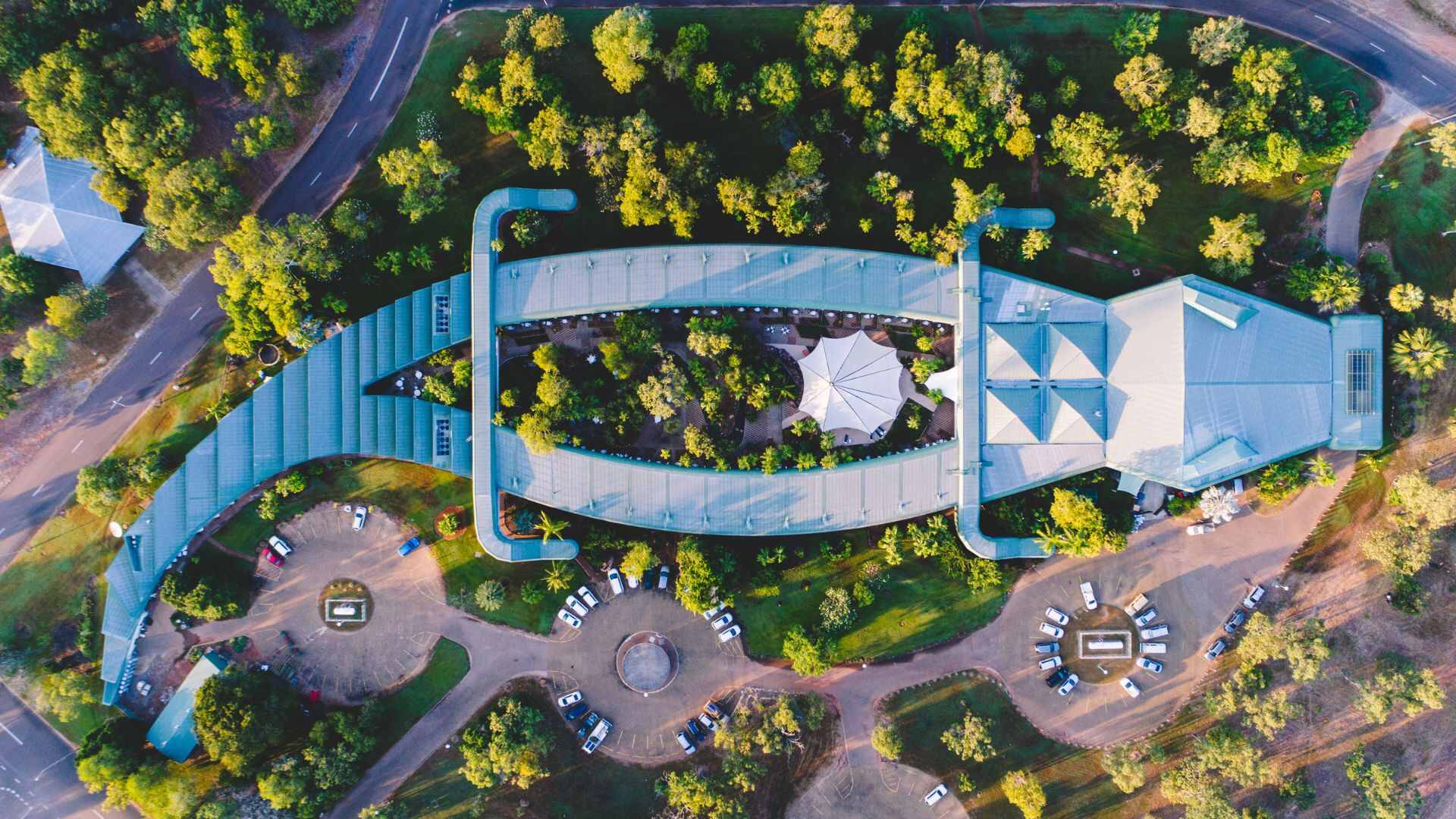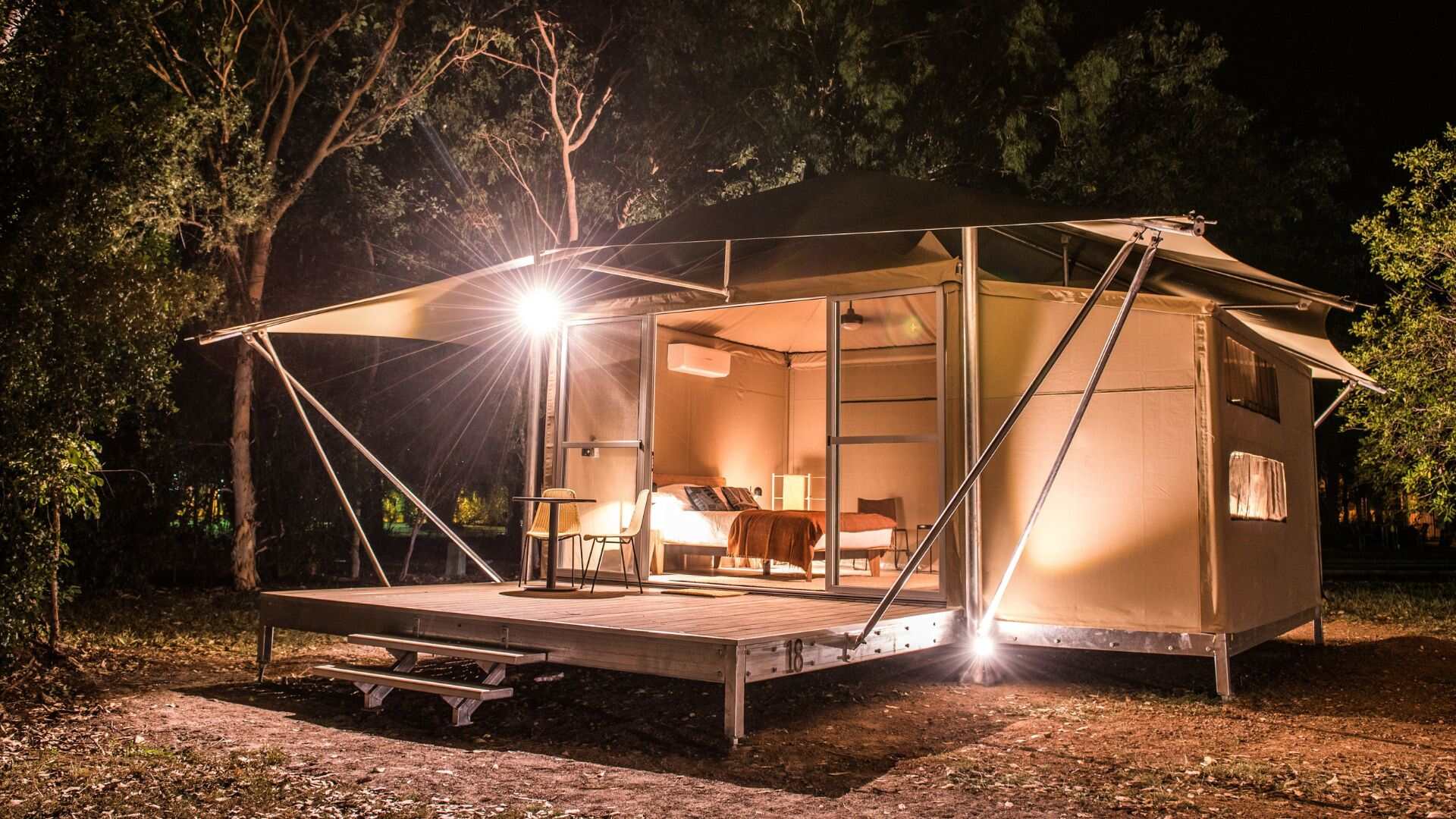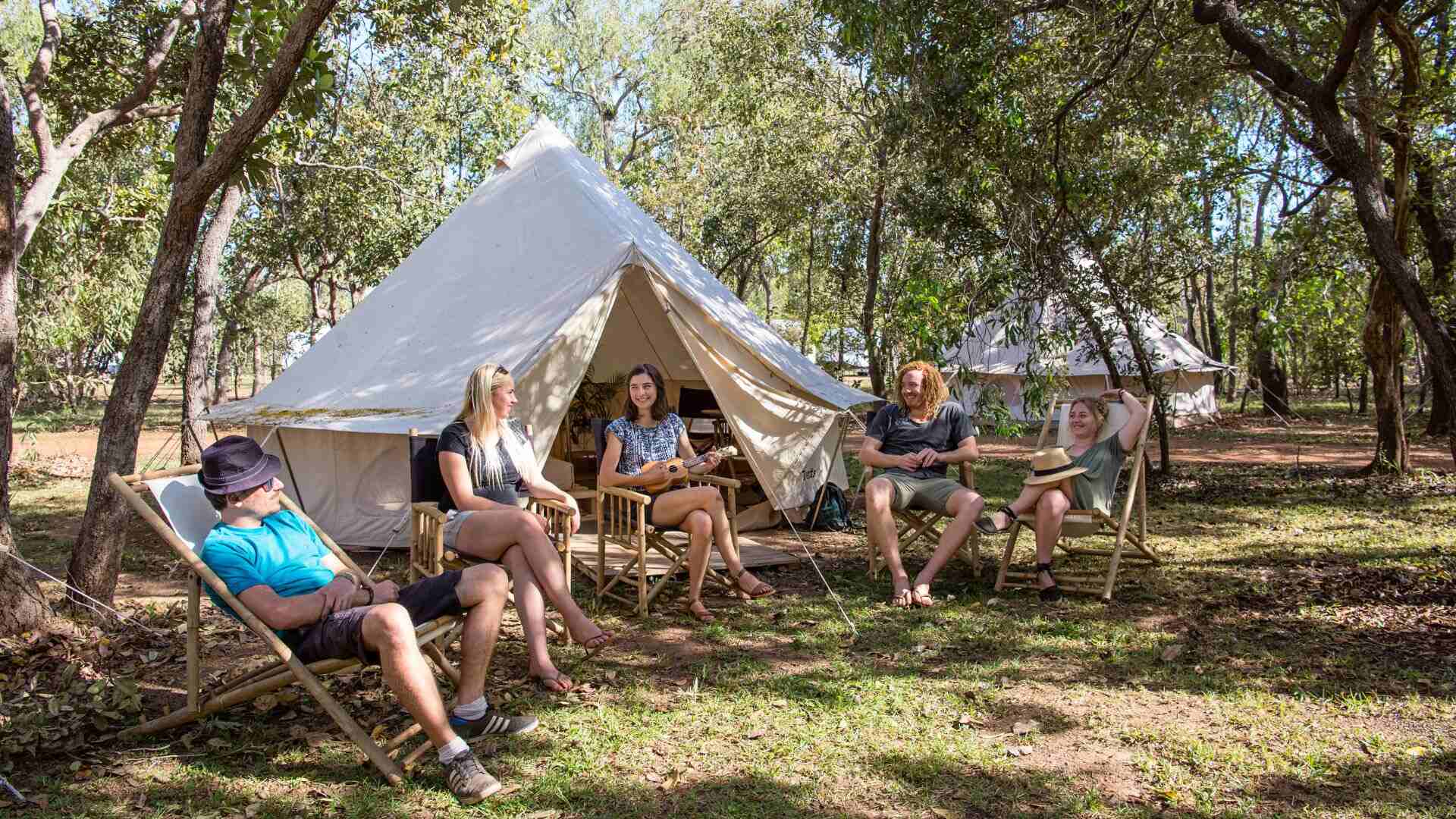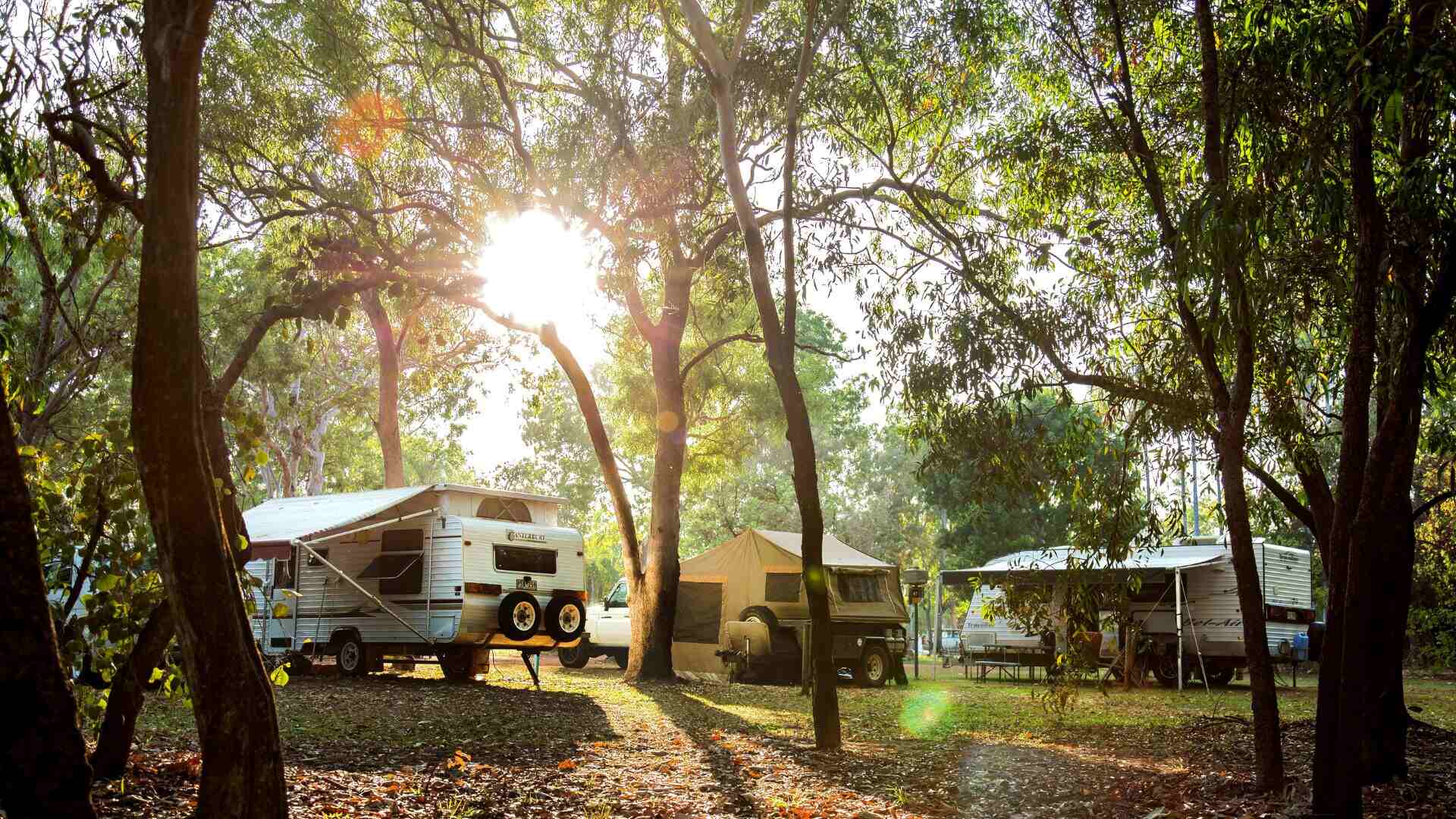 If you're looking for luxury, consider staying at Bamurru Plains. This safari-style lodge is located on the Mary River, built amongst the savannah bush fringing the floodplains to provide unobstructed views of the surrounding wetlands and their teeming flora and fauna. Immersion into these natural surroundings will be heightened by the lack of wifi and phone reception.
Forget the hustle of social media and watch waterbirds take flight, spy a buffalo or two and catch stunning sunsets from your chic rustic bungalow tents — true wild bush luxury. Guests can cool off in the private plunge pool with a shaded deck — and raid a minibar for libations. There are options to take part in daily guided wilderness safaris and enjoy bush-inspired meals. The bungalows each have ensuite bathrooms with high-pressure showers and mesh screen walls on three sides so you can see, hear and almost touch the wildlife outside. There are also elements to reflect the region's earlier Indigenous, hunting and pastoral history like explorer's maps, Aboriginal artwork, buffalo horns and old photos.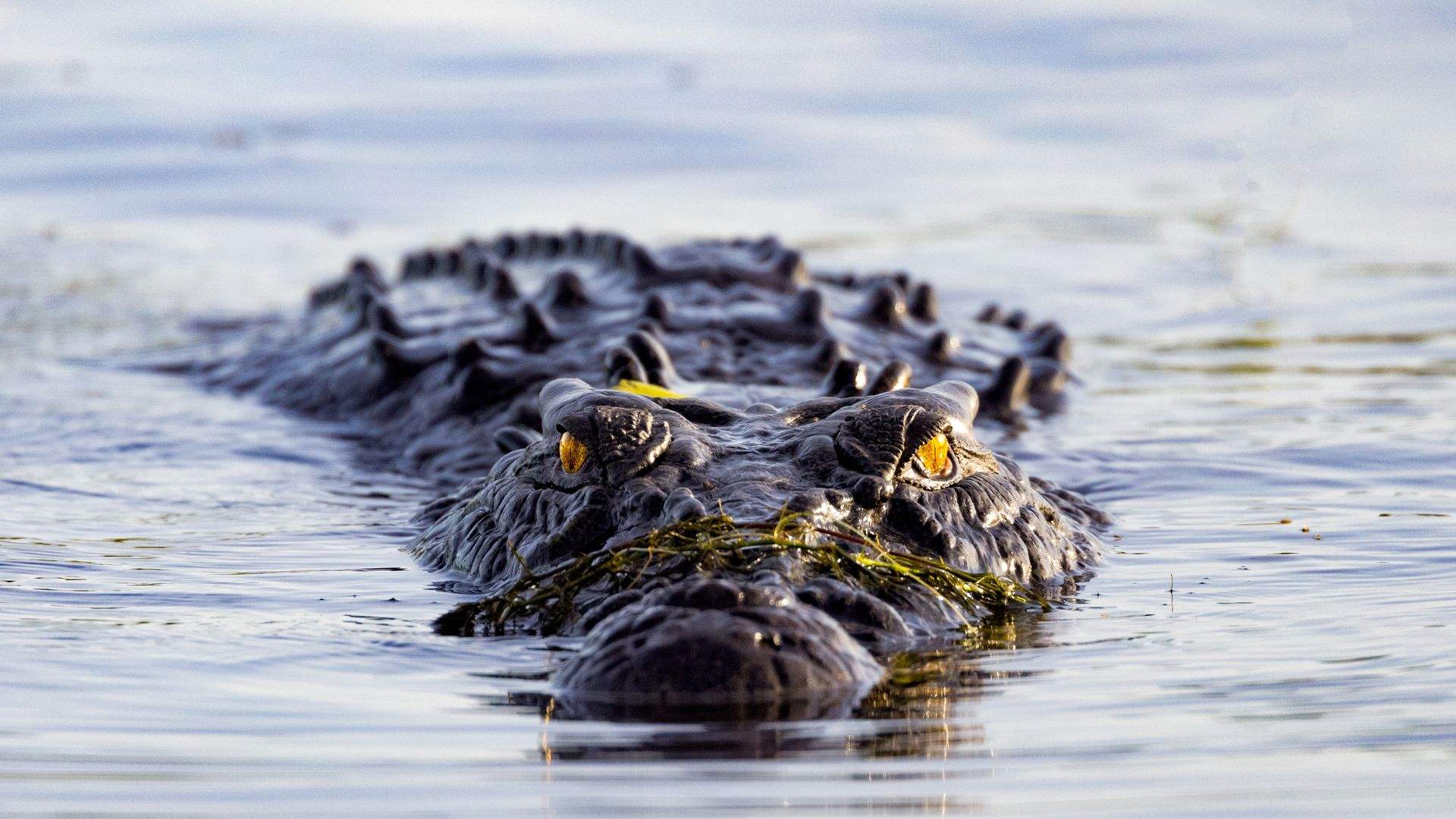 Kakadu National Park is an ancient playground with vast floodplains, ancient rock art sites and wide vistas of unspoiled wilderness. It is a magical destination with something for everyone. Whether you're looking to immerse yourself in nature, explore ancient history, or simply relax and unwind, Kakadu has it all.
Located at the northern end of the park you will find Ubirr, one of the most important Aboriginal rock art sites — the artwork here dates back over 20,000 years. The subjects of the rock art are many of the important food animals including fish, turtles and goanna but in the main gallery, there is a painting of the now-extinct Tasmanian tiger (thylacine). Famous rock art depictions at the site include the Rainbow Serpent, Narmarrkan Sisters and Mabuyu. The first encounters with Europeans are also documented on the smooth stone surface. If you can, go on a ranger-guided tour to learn about the rich cultural history of this timeless spot. The site includes a one-kilometre loop track and if you are there at sunset, climb up 250 metres to the rocky Nadab lookout and enjoy 360-degree views of Arnhem Land, dark ribbons of rainforest and the sparkling waters of the floodplains.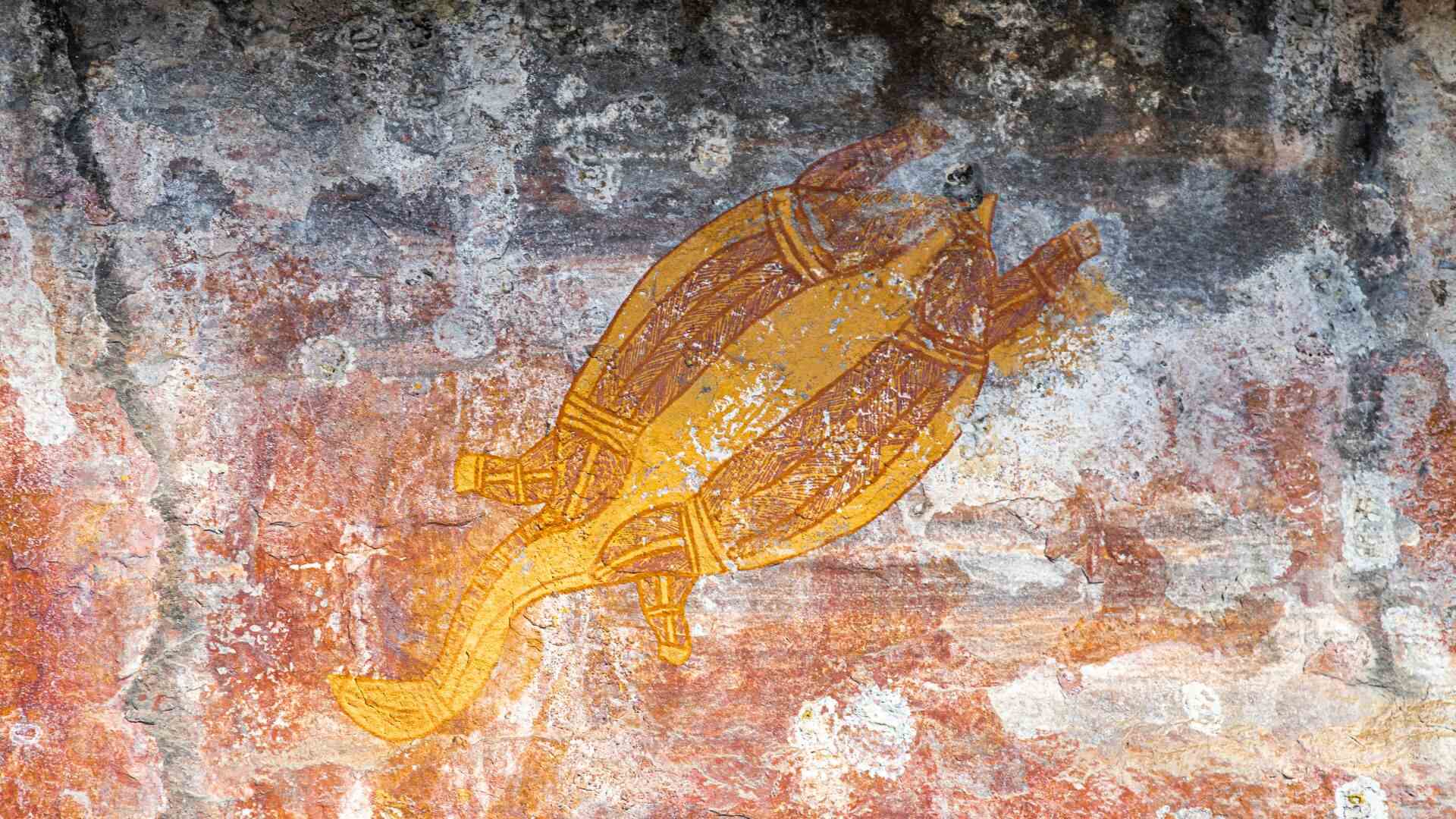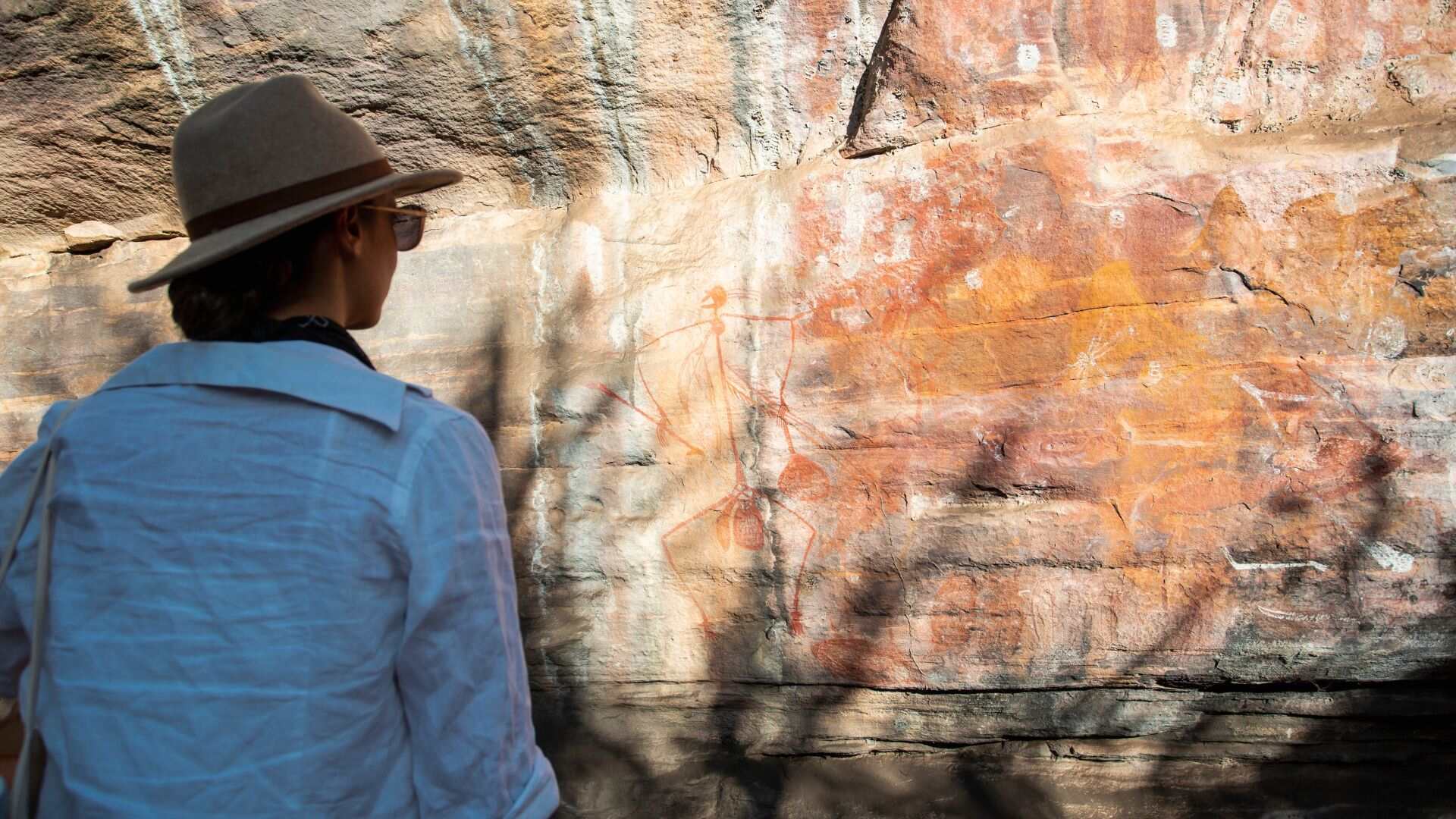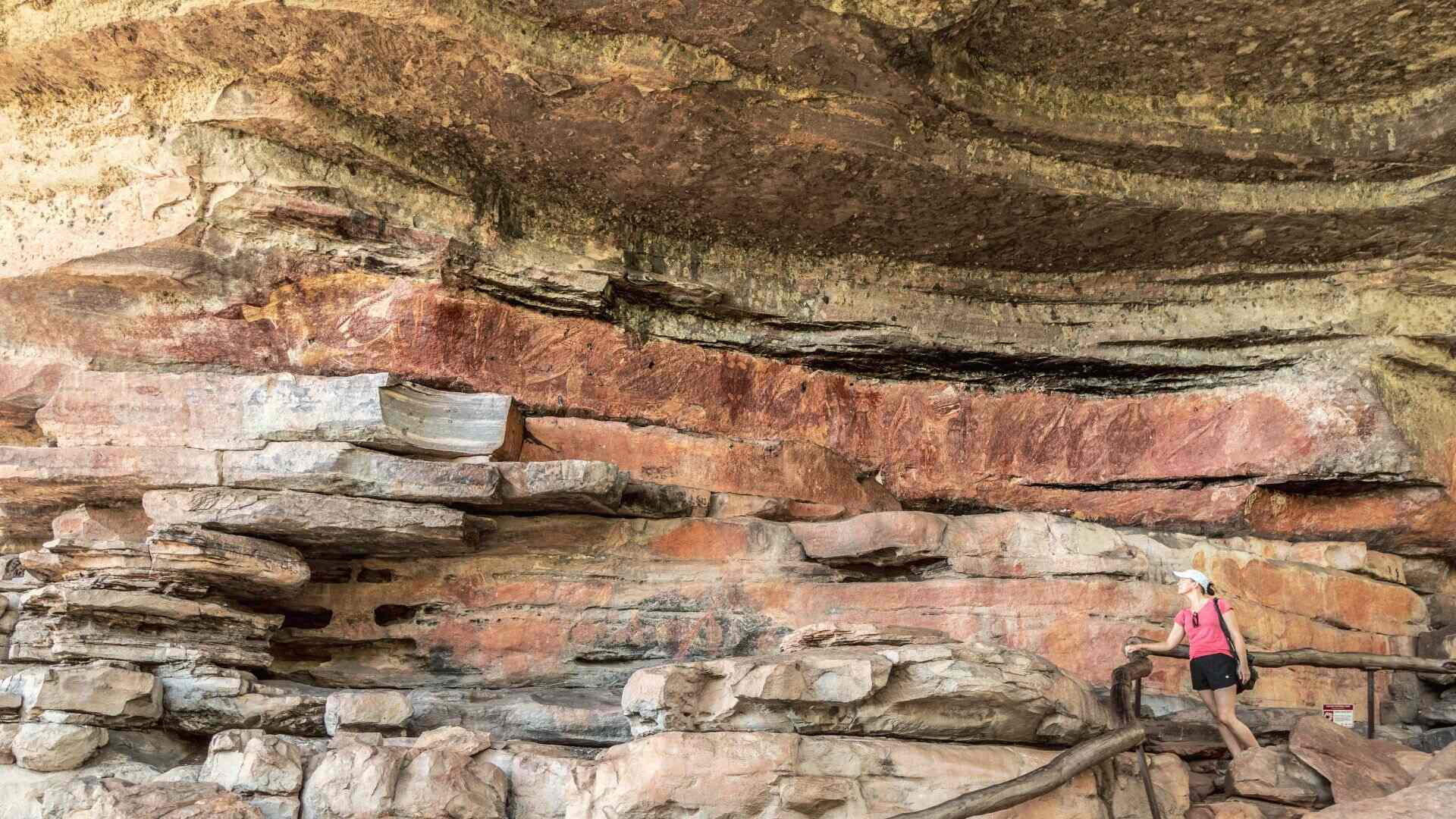 Another fantastic sunset (or sunrise) spot is Nawurlandja Lookout with outstanding panoramic vistas across Kakadu's lush but rugged landscape. The lookout walk takes less than an hour and is only about a 600-metre return. Gaze across the Anbangbang Billabong to Burrungkuy (Nourlangie Rock) and the Arnhem Land escarpment in the distance
The park, being in the tropics, is overflowing with natural pools, billabongs and waterfalls. One of the lesser-known areas located at the southern end of the park is the crystal-clear waterfall and plunge pool at the Maguk waterfall. This hidden gem is surrounded by lush rainforest and pristine water, perfect for a refreshing swim after a hot and dusty exploration of the park.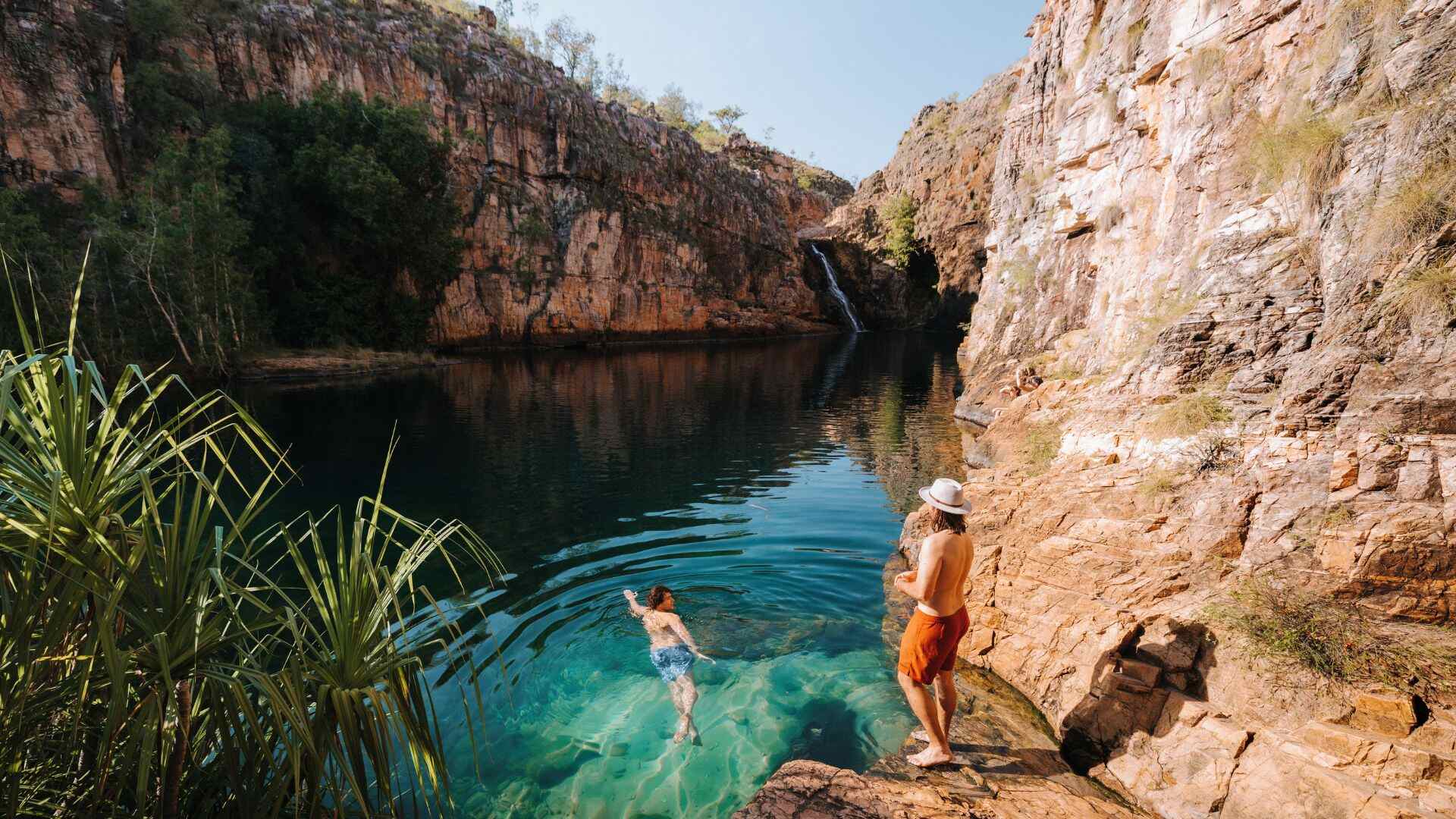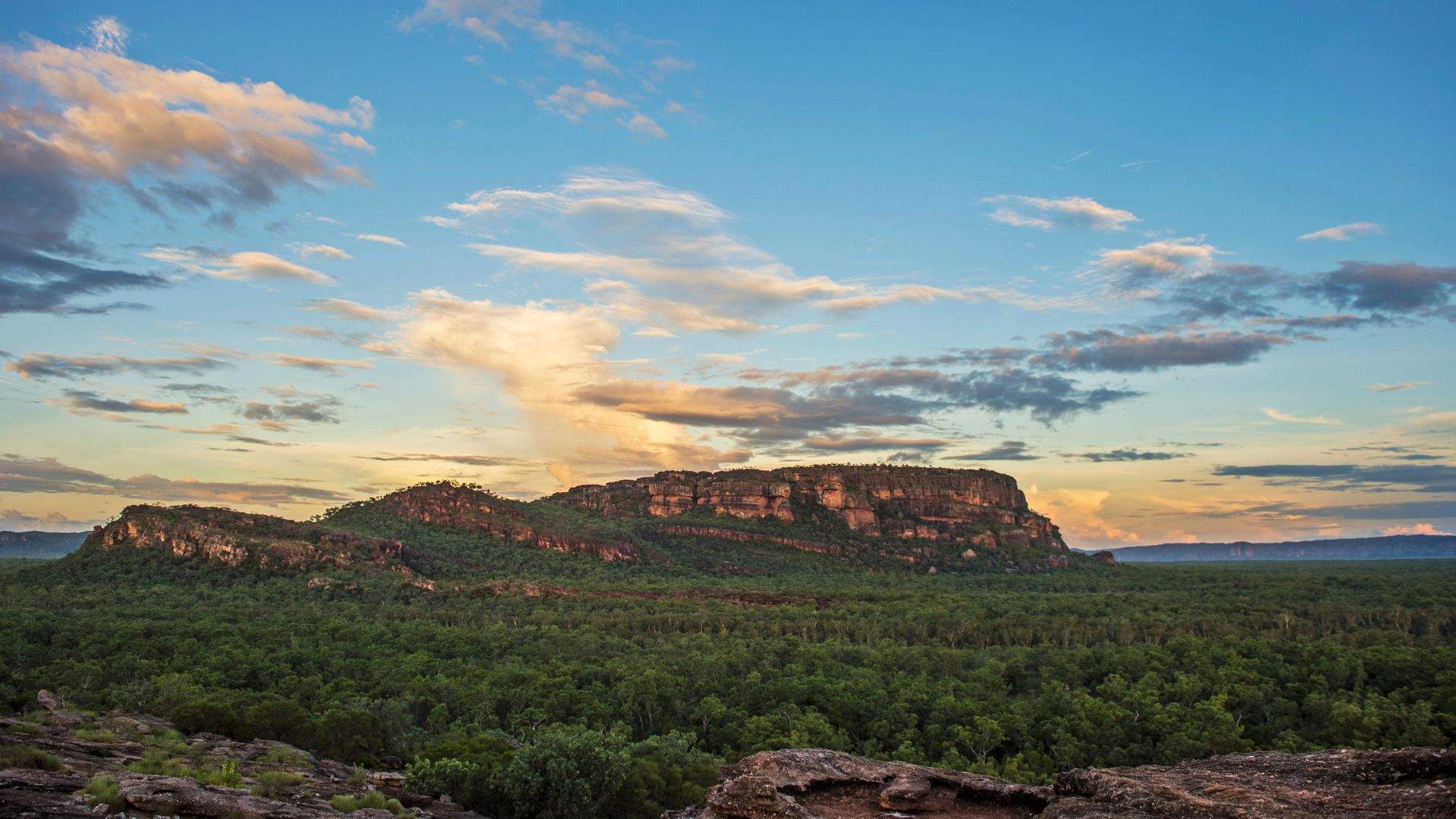 No trip to Kakadu would be complete without a visit to its most celebrated waterfalls Twin Falls and Jim Jim Falls, located in the southern part of the park. They're best seen by air during the tropical summer as the rains swell the waterways leading to powerful cascades into the gorges below. Get your heart rate up and trek up the challenging six-kilometre Twin Falls plateau walk. From there, see showstopping views of the twin streams and across to the unspoilt wilderness of Kakadu. Scramble across the large boulders at the base of the spectacular Jim Jim Falls during the dry season or see how powerful the biggest waterfall gets during the tropical summer from the air. At 200 metres, Jim Jim Falls is the second-highest waterfall in all of the Northern Territory (second to Surprise Creek Falls in Litchfield).
Experience the wetlands at Yellow Water (Ngurrungurrudjba), a landlocked billabong and wetlands area. When the waters recede in the dry season you can take the boardwalk to a viewing platform or take the award-winning Yellow Water boat cruises to see saltwater crocodiles (from a safe-enough distance), wild horses, birdlife and other native fauna. You can also partake in a fishing tour to try your luck at catching a barramundi — if you catch a fish of a decent size, you'll even have the option for an onboard chef to cook it up for you.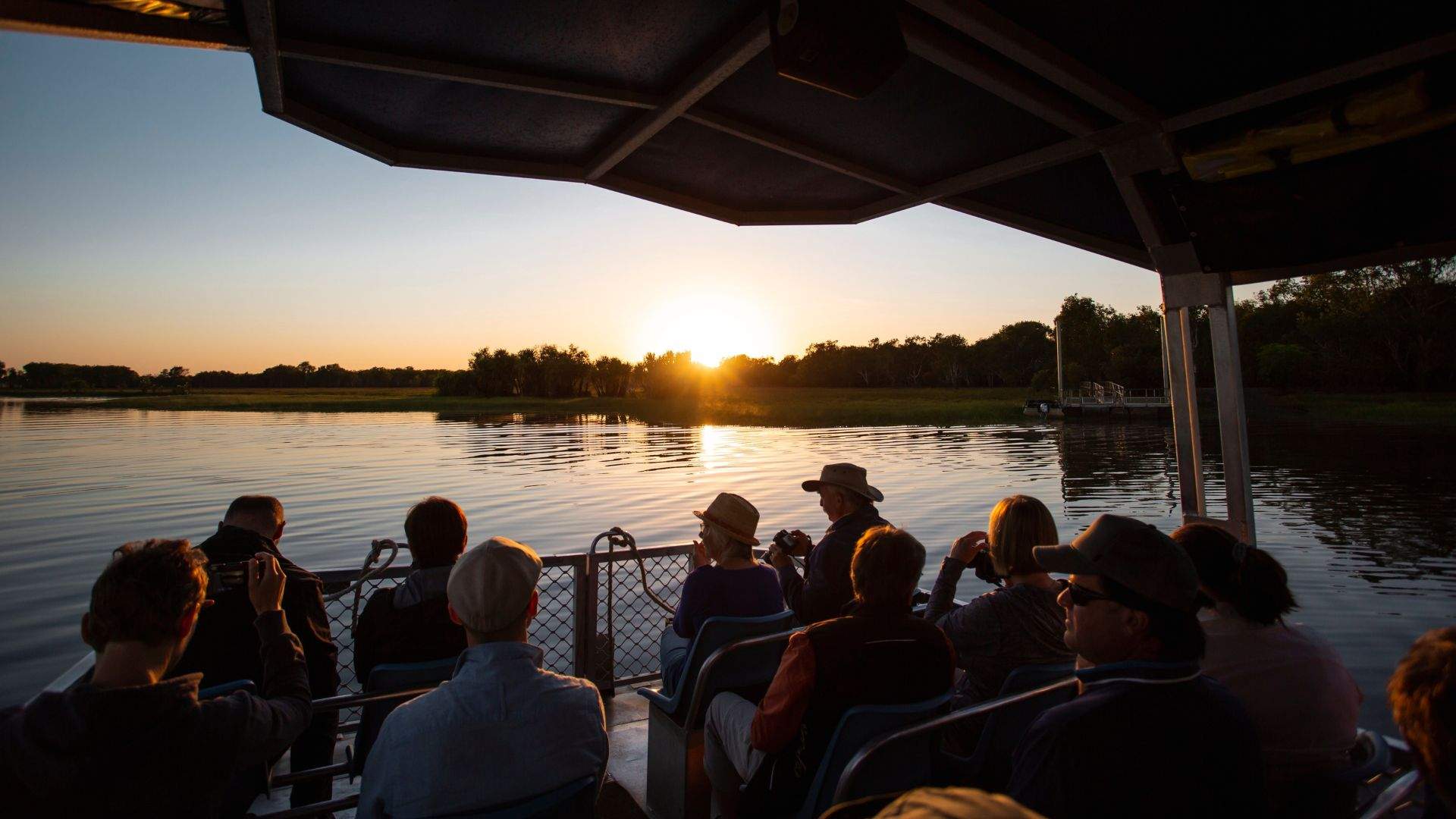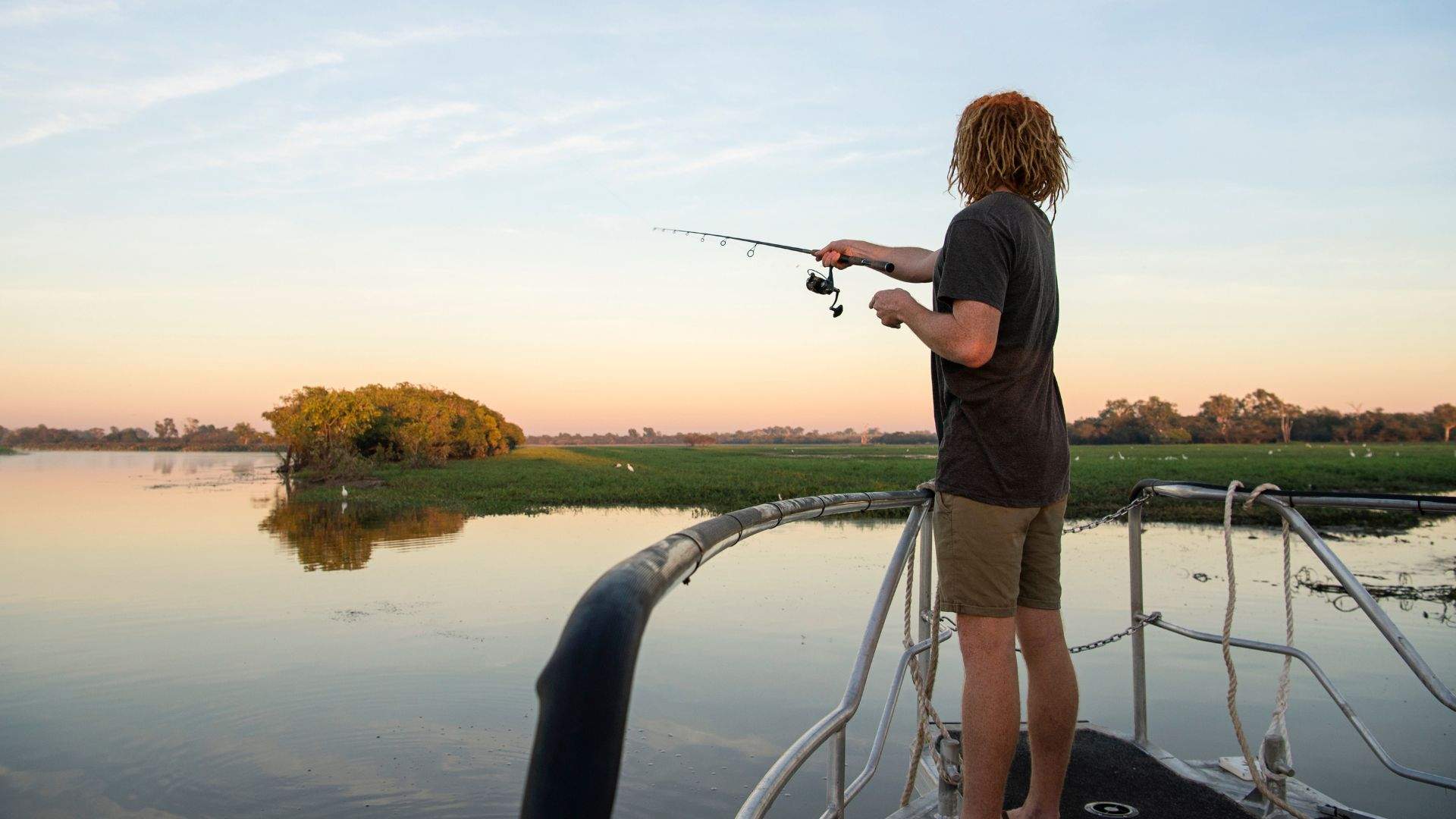 Whether it's your first stop or the next leg in your adventure, Katherine is a destination that promises to leave a lasting impression on visitors. Book flight deals to Darwin at jetstar.com.
Images (in order): Daniel Tran (top image); Eat: Tourism NT; Stay: Tourism NT, Salty Wings, Shaana McNaught, Tourism NT Kakadu Tourism, Shane McNaught, Tourism NT, Tourism NT; Play: Sean Scott, Helen Orr, Nicholas Kavo, Tourism NT, Daniel Tran, Kyle Hunter and Hayley Anderson, Shaana McNaught, Nicholas Kavo, Shaana McNaught.